Olympics water polo: Australia women thrash Great Britain
Last updated on .From the section Olympics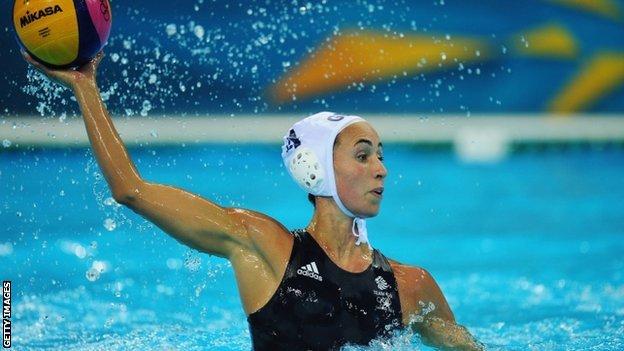 Australia's women proved far too strong for Great Britain in the Water Polo Arena, condemning the hosts to a 16-3 defeat at London 2012.
After three quick goals for Australia, Chloe Wilcox cut the deficit to 3-1 at the end of the first quarter, and a repeat in the second made it 6-2.
Francesca Painter-Snell scored the only other British goal, with Rowie Webster netting five for Australia.
Britain will now turn their attention to the match against Italy on Friday.
Those teams prop up Group B, while Russia joined Australia at the top of the standings by beating 2012 European champions Italy 7-4.
Britain's Hungarian coach, Szilveszter Fekete, was disappointed his team could not match their opening performance, which was
"I think the joy was far too big after that match and we took away our edge," he said. "The concentration levels were definitely lower today.
"We missed a couple of extra-man chances in the beginning and had we scored from them, it might have been a different match."
Fekete was also unhappy with the officiating, adding: "Again, it's about the style of the refereeing. The Australians play their tough, physical game if it's allowed.
"The approach was totally different in the previous match between Spain and the USA, the referees didn't let the physical strength deny playing water polo. That's why Spain could catch up.
"Had we enjoyed the same approach, it would have been a different story. I wouldn't say we would have won, but we would have had a chance of a more balanced match."
In Group A, Spain tied with United States 9-9 and Hungary beat China 11-10.