Olympics beach volleyball: Grotowski & Garcia-Thompson out
Last updated on .From the section Olympics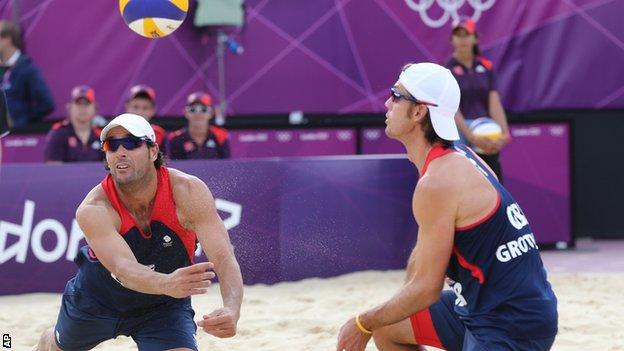 Great Britain's John Garcia-Thompson and Steve Grotowski are out of the Olympics beach volleyball following defeat by Norway's Tarjei Viken Skarlund and Martin Spinnangr.
After leading 11-10 in the first set, they saved a set point at 19-20 before the Norwegians edged clear.
The second set was more one sided as Norway's pair reached the last 16.
Grotowski is hopeful the sport can move forward in Britain after the Games finish, but warned it will not be easy.
"Things need to change, we can't keep doing things the same way in Great Britain in beach volleyball if we want to compete on this stage," the 30-year-old said.
"The Olympics is an amazing start for volleyball here and hopefully we can move on from here.
"Funding, structure, where the money's going, what it's being spent on, it just has to be a little more efficient."
Brazil duo Ricardo Santos and Pedro Cunha also qualfied from Britain's group, and will join a number of other pairs who sealed their progress.
Julius Brink and Jonas Reckermann of Germany, Switzerland's Seba Chevallier and Sascha Heyer, America's Jacob Gibb and Sean Rosenthal, and Poland's Grzegorz Fijalek and Mariusz Prudel are also through.
In the women's competition, Americans Kerri Walsh and Misty May-Treanor, who are chasing their third consecutive gold medal, moved into the last 16 alongside Czech pair Kristyna Kolocova and Marketa Slukova.
Other pairs through are Brazilians Larissa Franca and Juliana Felisberta, who maintained their 100% record, Germans Katrin Holtwick and Ilka Semmler, Russia's Anastasia Vasina and Anna Vozakova, and China's Xue Chen and Zhang Xi.