Olympics windsurfing: Nick Dempsey in contention for silver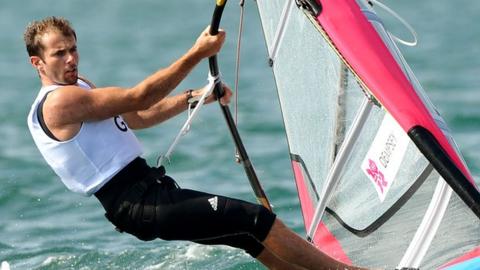 British windsurfer Nick Dempsey put himself in the running for an Olympic silver medal with one race left.
The 31-year-old, who won bronze in Athens eight years ago, climbed into second behind Dutchman Dorian van Rijsselberge, who sealed gold with two races remaining.
Dempsey scored a ninth and a second on Sunday to head Germany's Toni Wilhelm in third place by 11 points.
The Briton is 17 points ahead of Poland's Przemyslaw Miarczynski and needs to finish better than ninth in the double points-scoring final to clinch a medal.
"I knew he [Dorian] had won halfway through the first race. He deserves it," said Dempsey, who finished fourth in Beijing. "I don't feel too bad. It's not like I lost it, more like he won it. He sailed better than me and deserved to win. I don't feel completely confident, [about winning silver] there's a lot that could go wrong."
GB 470 women Hannah Mills and Saskia Clark edged back into first after six of their 10 opening races, while 49er duo Stevie Morrison and Ben Rhodes are third with three races to go.
Mills and Clark, the world champions, posted a first and a sixth to end on 18 points, one clear of New Zealand's Jo Aleh and Olivia Powrie and three ahead of Dutch sailors Lisa Westerhof and Lobke Berkhout.
Morrison and Rhodes, who are looking to improve on ninth in Beijing, finished 13th and third in their two races.
The Britons are 26 points behind Kiwis Peter Burling and Blair Tuke in second, but will be looking to defend third from the four teams within six points behind them. Australians Nathan Outteridge and Iain Jensen lead the class by 20 points.
"We just need to put in a really solid day tomorrow and make sure when we've finished we've still got a chance to win a medal," said Morrison.