Record number of Scots heading to London 2012

By Kheredine Idessane
BBC Scotland
Last updated on .From the section Olympics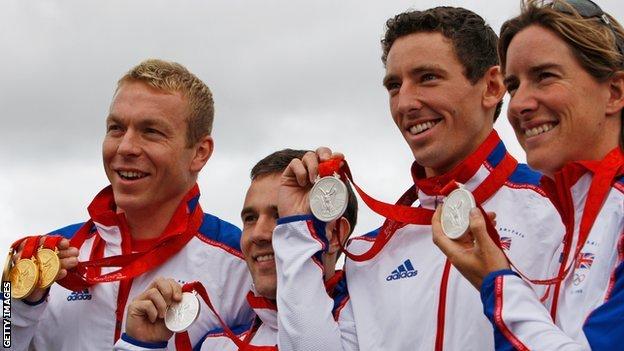 The largest ever group of Scottish competitors to qualify for an Olympic Games is putting the finishing touches to its preparations.
A record 54 athletes from Scotland are heading to London 2012, with at least nine of them in with a chance of striking gold.
Sir Chris Hoy, Andy Murray, Hannah Miley and Katherine Grainger are among the most instantly recognisable names.
It was always expected that a "home" British Games would produce the largest ever Team GB. A total of 542 athletes have been picked, with almost exactly 10 per cent of the squad coming from north of the border.
Scotland will have competitors in 21 of the 26 Olympic sports on show in London, from athletics to volleyball; from basketball to weightlifting.
The best represented sport is swimming, where six Scots will compete in the Olympic pool.
Hannah Miley has a good chance of gold in the 400m individual medley, in which she won a world silver medal last year.
David Carry is competing in his third Games, while Caitlin McClatchey, Robbie Renwick, Michael Jamieson and Craig Benson are also part of the biggest British swimming team ever picked for an Olympics.
The gender split among the Scots heading to London 2012 favours the women: 28 female athletes have made Team GB compared to 26 men.
All four Scots in the athletics squad are women: Lynsey Sharp, Lee McConnell, Eilidh Child and Eilish McColgan run in the 800m, 400m, 400m hurdles and 3,000m steeplechase respectively.
Sharp and McColgan follow in the footsteps of their famous parents. Like Lee McConnell, Liz McColgan made it to three Olympic Games, winning silver in Seoul in 1988 over 10,000m.
At 22, Lynsey Sharp is the same age as her sprinter father Cameron when he made it to his first Olympics in Moscow in 1980.
But, two years away from the Glasgow 2014 Commonwealth Games, Scotland's male track and field athletes have some catching up to do.
For the first time since the Melbourne Games in 1956, no Scotsman has made the British Olympic track and field team.
There are six sports in which there is just a single Scottish competitor, but five of them could produce medals.
Luke Patience, from Largs, is a world sailing silver medallist and Prestonpans boxer Josh Taylor is a strong contender in the 60kg category.
Inverness-born Mhairi Spence recently became world champion in the modern pentathlon, while Dan Purvis and Scott Brash could both have podium finishes in gymnastics and showjumping respectively.
Ayrshire's Peter Kirkbride is the sole Scottish weightlifter but he will use London 2012 as a stepping stone towards turning his Commonwealth silver medal in Delhi to gold at Glasgow 2014.
In the team sports, Scotland is represented in basketball, handball, volleyball, women's hockey and women's football, where Kim Little and Ifeoma Dieke will play for Team GB despite the Scottish Football Association's opposition to the British Olympic football teams.
No Scots made it into Stuart Pearce's men's Team GB which will be captained by the former Wales international Ryan Giggs.
Thirty-one Scottish athletes competed at the last Olympics in Beijing, bringing back six medals. Chris Hoy, of course, famously came home with three golds, while Katherine Grainger, David Florence and Ross Edgar all won silver.
Nine Scottish medals were won at the 1908 Games in London, Stockholm in 1912 and Sydney in 2000.
With a record 54 Scots competing this summer, the aim is to reach a double figure tally for the very first time.