Olympics sailing: Hannah Mills & Saskia Clark guarantee 470 medal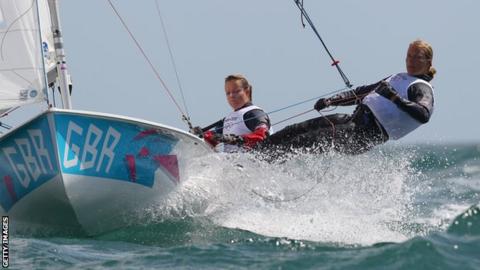 British women's 470 crew Hannah Mills and Saskia Clark guaranteed themselves an Olympic medal and will battle New Zealand for gold on Friday.
Mills and Clark climbed from second into a tie for the lead with the Kiwis in the final two opening-series races.
Britain and New Zealand are on 33 points and, barring disqualification, cannot be caught for the top two slots.
GB's Lucy Macgregor, Kate Macgregor and Annie Lush lost their match-racing quarter-final to Russia.
World champions Mills and Clark are ahead of the Netherlands' 470 crew, who are third on 52 points, with France three points behind.
"Like loads of kids, when I was 10 my dream was to go to the Olympics and be a medallist," said Clark, 32. "To have that - and have a chance of a gold one - is awesome."
The Britons came eighth and second in their final two races as New Zealand's Jo Aleh and Olivia Powrie had a second and an 18th, which became their discard.
Mills, 24, and Clark only teamed up in 2011 when the latter was left without a helm after double gold medallist Sarah Ayton retired.
The pair were World Championship runners-up in Perth in December 2011 but then won the 2012 World Championships in Barcelona in May.
The Macgregor sisters and Lush, who struggled in the round-robin section to qualify as seventh seeds, went into day two level with the Russian crew of Ekaterina Skudina at 1-1 and went 2-1 up after dominating Wednesday's opening race.
They were leading within 100m of the finish in the fourth match before Russia outmanouevred them to win on the line.
In the decider, Britain overtook Russia on the second upwind leg to lead around the final mark but a spinnaker set and gybe off to the right cost them boat speed. Russia opted for a simple spinnaker set and kept their pace up to slip past on the left.
GB were unable to get close enough to affect the Russians' air and the Britons cut dejected figures as they went down 3-2.
"I let the others down there at the end, it's gutting," said Lucy Macgregor. "It feels like a massive missed opportunity but we really raised our game in the quarter-finals and we will be proud of this in the days to come."
Russia will meet Spain the semi-finals, while Australia will race Finland, who beat pre-event favourites Unites States, helmed by Anna Tunnicliffe.