Usain Bolt eases into 200m final at London 2012

By Tom Fordyce
Chief sports writer at the Olympic Stadium
Last updated on .From the section Olympics
Usain Bolt effortlessly breezed into the Olympic 200m final to set up a much-anticipated showdown with his training partner Yohan Blake.
The reigning Olympic champion won the second semi-final in 20.18 seconds, racing out of the blocks brilliantly before relaxing down the straight.
Jamaican compatriot Blake had taken the first semi in 20.01 secs from Wallace Spearmon, while Churandy Martina won the third in 20.17.
Great Britain's Christian Malcolm, running in his fourth Olympics, finished third in the final semi in 20.51 secs but missed out on the fastest loser spots. France's Christophe Lemaitre took one of those, clocking 20.03 secs behind Blake.
"It's all about going through as easy as possible. That was the aim, so I'm pretty happy," said Bolt. "I'm ready. This is my favourite event, so I'm looking forward to it. I know what I can do, so I never doubt myself."
Malcolm finished 0.14 secs off the second fastest loser place in what may be his final individual race.
"I fancied my chances," the 33-year-old Welshman told the BBC. "I'm disappointed. In my last Olympics, it would have been nice to make the final, but it wasn't to be.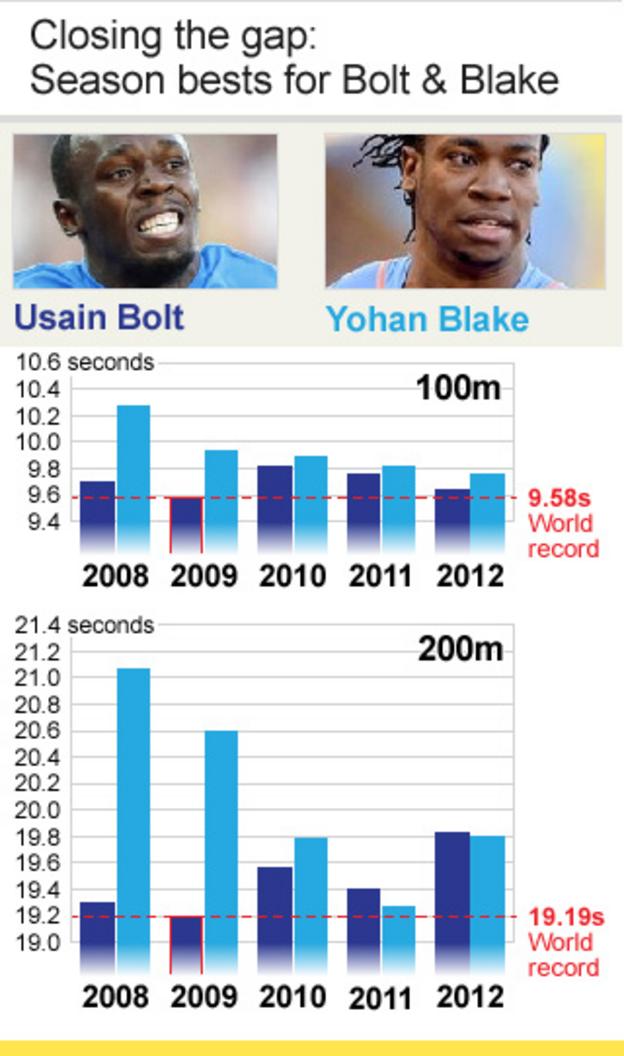 "I'm getting older and it's not getting any easier. This atmosphere is amazing and now it's on to the relay."
Ever since Bolt ran 9.63 secs to retain his 100m title on Sunday evening, there has been intense speculation as to the time he might run in Thursday's 200m final.
His Olympic record of 19.30 secs from Beijing may well be in danger, certainly if Blake runs close to his personal best of 19.26 secs.
After winning his semi-final, Blake said: "The race was a walk in the park. I've been working hard. All I needed to do was kick well."
American Spearmon, who clocked 20.02, is confident there can be an upset in Thursday's final (20:55 BST).
"Spearmon has been here before, so he knows what it takes," said Bolt. "There's lots of people that could spoil the party."
Bolt's own world record of 19.19 secs, set in Berlin three summers ago, seemed impossible at the time. But this is a fast track, Bolt is in wonderful shape and no-one dare rule anything out.