Perri Shakes-Drayton and Eilidh Child reach 400m hurdles semis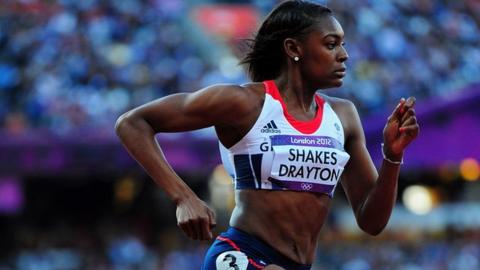 British pair Perri Shakes-Drayton and Eilidh Child have reached the 400m hurdles semi-finals at London 2012.
Shakes-Drayton impressed with a time of 54.62 seconds despite coasting to the line as she won her heat.
The 23-year-old told BBC Sport: "I thought I had to treat this as a final and not hold anything back. I wanted to win, so it is a good start."
Former European champion Natalya Antyukh was the fastest qualifier in 53.90secs ahead of Zuzana Hejnova.
The 400m hurdles semi-finals take place at 19:00 BST on Monday, with the final scheduled for 20:15 BST on Wednesday.
Child, who ran 56.14secs, said: "My stride was all over the place, so I am just relieved I have done enough to make the semi-finals."