Australians Outteridge & Jensen secure 49er sailing gold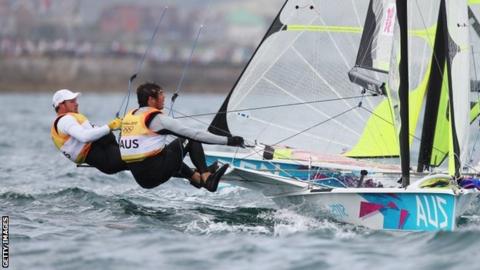 Australians Nathan Outteridge and Iain Jensen secured 49er gold with one race to spare in Weymouth.
The pair dominated the Olympic regatta to clinch victory, with silver going to New Zealand's Peter Burling and Blair Tuke.
Denmark are in third going into the medal race, but there are six boats within eight points, including Great Britain's Stevie Morrison and Ben Rhodes, who are six points back in fifth.
Britain's 470 men Luke Patience and Stuart Bithell closed the gap on Australia to just one point after eight of their 10 opening races.
The pair, world championship runners-up to Australian duo Mathew Belcher and Malcolm Page last year, had a win and a sixth on Monday.
For Outteridge, it was redemption for Beijing when he and crew-mate Ben Austin capsized close to the finish line and slipped from gold-medal position to fifth.
After China he joined up with childhood friend Jensen and the pair won three world titles to make them favourites coming into the Games.
"It's more a relief than anything. We've worked so hard for so long for this," said 26-year-old Outteridge, who earlier saw compatriot Tom Slingsby win the Laser class.
"To come so close last time and miss out was really tough.
"I've been sailing with 'Goobs' [Jensen] now for four years and we've been an unstoppable team. Everyone said we were the favourites and don't let the country down, but we've done the job and we've done Australia proud.
"It's been an amazing day for Australian sailing. We watched Tom's race and he was in control, and we got out there and he'd already won. We had a few moments with him and then we had to do our job."
Morrison and Rhodes, who went to Beijing as one of the leading contenders before finishing ninth, struggled on the shifty 'Nothe' course nearest to Weymouth as they tried to move up the standings.
"It's really crazy racing, the wind is all over the place, that's what that course is like," said Morrison. "We got on the wrong side of things. There were people going from last to first and we went from near the front to close to the back.
"We're just frustrated really, but we've got a really good chance to go and get a bronze medal. It's been an amazing Olympics and we want to finish it off well."
Patience and Bithell have built a 29-point lead over Italians Gabrio Zandona and Pietro Zucchetti, and say they are inspired by watching team-mates Ben Ainslie, Iain Percy and Andrew Simpson stand on the podium.
"It's the stuff of goosebumps isn't it?" said Patience. "We have been watching the Olympic Games for years and years. I'm just a young lad and it still makes me well-up and get that lump in my throat seeing folk on the podium.
"It really inspires you to push and do everything you can. It's great to see, great to be a part of that team and the boys are legends. What can we say? It's great."