Olympics: Michael Phelps & Hannah Miley into medley finals

By Nick Hope
BBC Sport at the London Aquatics Centre
Last updated on .From the section Olympics
Fourteen-time Olympic gold medallist Michael Phelps scraped through to the final of the 400m individual medley.
The American's four minutes 13.33 seconds was only eighth fastest in the heats and saw him through to Saturday's final by only seven hundredths.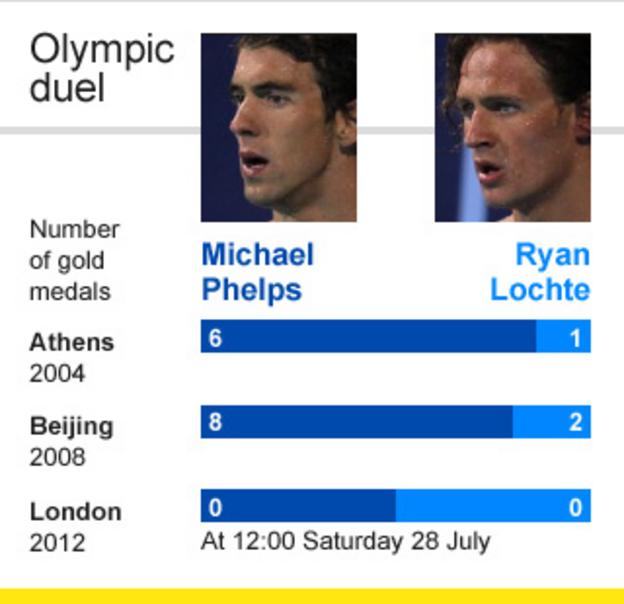 Phelps's compatriot and world champion Ryan Lochte was third quickest but Beijing silver medallist Laszlo Cseh of Hungary was eliminated.
Briton Hannah Miley made the final of the women's equivalent event.
One of the most impressive performances in the men's individual medley came from Japan's 17-year-old Kosuke Hagino. He looked in ominous form with a time of 4:10.01, although Lochte clearly eased down as he finished.
Phelps, 27, said: "I didn't expect those guys to go that fast [but] a final spot is a final spot.
"I was slower this morning than I was four years ago, so I guess that's probably the only difference.
"I think the only thing that matters is really getting a spot in [the final].
"You can't win the gold medal from the morning."
The men's final takes place at 19:30 BST.
Miley secured her place in the women's 400m individual medley final (20:11 BST on Saturday) by producing the sixth fastest time (4:34.98) in the heats.
The 22-year-old, strongly fancied to add to the silver medal she won at last year's World Championships in Shanghai, said: "The last 100m felt harder than the rest but morning swims tend to be that way. The noise when you come out to the pool from the crowd is unbelievable.
"I was really happy - it was my fastest swim in a heat, so that's great. I have got to see what I can do now for the final.
"I've just got to swim the race of my life. I can only control what I can do. I can't control how fast other people are going to swim.
"Before a race, my dad gives me a hug and says 'I love you'. It's great to be swimming not just for myself, but for my family, him and his hard work."
The Scot will certainly face stiff competition in the final. World champion Elizabeth Beisel from the United States and China's 16-year-old Ye Shiwen were both three seconds quicker in the heats than the Commonwealth champion.
BBC Sport commentator and former Olympian Mark Foster said: "Looking at the different sizes of the girls, there should be a heavyweight and lightweight competition for this; Hannah is tiny. It is a really beautiful thing watching Hannah race, as she is so technically proficient.
"She doesn't fight the water, doesn't struggle through it. Every stroke is brilliant."
In the women's 100m butterfly heats, Britain's Fran Halsall and Ellen Gandy booked their places in the semi-finals.
Both came second in their respective heats to qualify in eighth (58.23 secs) and ninth places (58.25) respectively.
They will be up against American Dana Vollmer, whose 56.25 set a new Olympic record.
It was an opening session littered with surprise results as world championship bronze medallist Paul Biedermann missed out on a place in the men's 400m freestyle final, as did defending Olympic champion Park Tae-hwan of South Korea, who was disqualified for a false start.
Other Britons to progress were Michael Jamieson and Craig Benson (100m breaststroke), David Carry (400m freestyle) and the women's 4x100m freestyle team.