Olympics cycling: Jason Kenny sets new record in men's sprint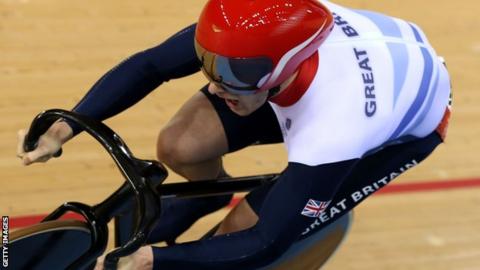 Great Britain's superb cycling form continued on Saturday when Jason Kenny set a new Olympic record in qualifying for the men's sprint.
Then 30 minutes later, Ed Clancy won the first discipline of the six-event omnium, the 250m flying lap.
Kenny's ride came in the 200m time trial, another event with a flying start, and he took 0.12 seconds off Sir Chris Hoy's record set in 2008.
The 24-year-old Brit stopped the clock at 9.713 seconds for the distance.
That prompted huge cheers from the crowd, who were on their feet again when Clancy went half a second quicker than his nearest rival Shane Archbold of New Zealand.
Clancy, who claimed his second Olympic gold on Friday as part of Britain's men's team pursuit quartet, now leads the two-day competition, cycling's answer to the heptathlon or decathlon, with a score of one point.
The 18 riders in the omnium are ranked 1-18 in event discipline, the rider with the lowest score being the winner.
A superb rider against the clock, Clancy must now defend his lead in the two events in Saturday's late session, the 30km points and elimination races, events that see all the competitors on the track at the same time. These have usually been his weaker disciplines.
Clancy, 27, won the omnium at the 2010 World Championships but finished in fourth place at the 2012 Worlds in April.
There is nothing wrong with his straight-line speed, however, and the likes of Archbold and the Australian world champion Glenn O'Shea will know they cannot match Clancy's pace over a lap.
Kenny's rivals in the men's sprint will be thinking the same thing.
Like Clancy, Kenny already has a London 2012 gold thanks to his performance in Thursday's men's team sprint and will now be confident of going one better than Beijing's silver in the individual.
He was beaten back then by Hoy, but with only one entrant per event per nation, the Bolton-born rider was given the nod over the illustrious Scot for the men's sprint place.
His main competition is likely to come from France's Gregory Bauge, who beat him into second place at the World Championships four months ago.
Kenny was the reigning champion in Melbourne as he was awarded Bauge's 2011 gold in January 2012, when the powerful Frenchman was given a backdated suspension for missing drugs tests.
Bauge, a seven-time world champion, remains a formidable threat but he will be alarmed at being 0.239 seconds slower than Kenny over 200m - a huge margin in this sport.