Olympics sailing: Paul Goodison unable to defend Laser title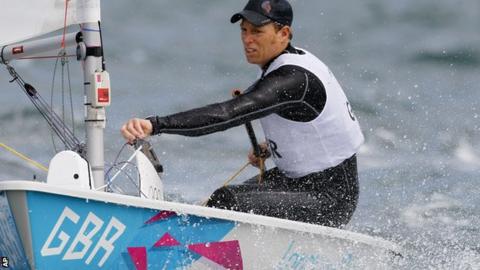 Defending Olympic champion Paul Goodison was unable to repeat his Beijing heroics after falling short of a medal in Weymouth on Saturday.
The 34-year-old, who injured his back on Monday, was sixth after the opening 10 races and unable to make bronze going into the medal race.
Goodison scored a ninth and an eighth in breezy conditions to trail Sweden's Rasmus Myrgren in third by 27 points.
"I'm a little bit deflated, it's been an uphill struggle," said Goodison.
"After race two the reality was it was always going to be difficult."
There was better news for GB windsurfer Nick Dempsey, who climbed into a share of second place with two races plus the medal race to come, following a second and a third.
Goodison broke down in tears after racing on Tuesday, fearing his Games were over because of injury.
"You try to put on a brave face and push through, but when you know within yourself you're only at 80-90% of your capabilities it's always going to be a massive uphill struggle," said the Rotherham-born Goodison, who has lived in Weymouth for six years.
"The first couple of days. the decision-making was gone because of the amount of pain. Some pills helped to take that away, but, unfortunately, the pace isn't there when you can only push yourself so hard."
Australia's five-time world champion Tom Slingsby leads by 14 points from Cyprus's Pavlos Kontides, who is set to win his country's first ever Olympic medal.
"Tom's a very talented sailor, I'm just very disappointed I couldn't put up a bit of a fight because I think it would have been much closer without the injury," said Goodison.
The Briton said he would take time to reflect on the Games before making a decision on his Olympic future.
"I haven't thought about anything other than this regatta," he said. "I've got a couple of big-boat regattas lined up in the autumn, but I will step back from Olympic sailing for a month or two and have a think about what I want to do."
Dempsey, who won bronze in Athens but was fourth in Beijing, is tied on 24 points with Germany's Toni Wilhelm. Dutchman Dorian van Rijsselberge leads on nine points and has finished outside the top two only once in eight races.
"It's not too bad, but I'm running out of races," said Dempsey. "I'm staying in it and I'm sailing well, but that gold medal is getting further and further away. I need a very special day on Sunday or I'll be racing for second."
Britain's Alison Young will go into her Laser Radial medal race in fifth after being disqualified for crossing the line early in her first race followed by a fourth. The 25-year-old was 18 points off third place with virtually no chance of a medal.
Luke Patience and Stuart Bithell dropped back to second behind pre-event favourites Australia after a third and a fourth. The Britons trail Mathew Belcher and Malcolm Page, who won 470 gold in Beijing, by four points after the world champions won both races on Saturday.
Britain's women's 470 world champions Hannah Mills and Saskia Clark were fourth in their first race and sixth in their second after a problem with their rigging. Mills and Clark slipped to second after four races, two points behind New Zealand.
In the women's RS:X windsurfing class, Bryony Shaw was seventh overall after scoring a seventh and a fifth on Saturday. The Beijing bronze medallist has two races plus the medal race to come and is 16 points adrift of bronze.
Lucy Macgregor's match-racing crew lost to USA and the Netherlands in their final two round-robin races but still made it through to the last-eight knockout stage.
"It's not exactly been the round we would have liked," she said. "We would have liked to be a bit higher up the rankings going into the quarters.
"The results have been really mixed and the main thing is that we are through. We have now got another chance to start again."