Usain Bolt eases to victory to reach Olympic 100m semi-finals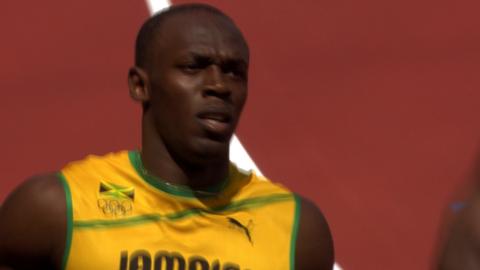 Defending Olympic champion Usain Bolt eased through to the semi-finals of the men's 100m in a time of 10.09 seconds.
He recovered from a slow start to progress, while world champion Yohan Blake ran 10.00 in his heat to also book his place in the semis.
American Ryan Bailey posted the fastest time, a blistering 9.88secs.
British teenager Adam Gemili (10.11) finished second behind Asafa Powell, with Dwain Chambers posting 10.02, one of his fastest times.
Team-mate James Desaolu also qualified, as the top three from each of the seven heats progressed automatically, as well as the two fastest losers, for Sunday's semis.
Tyson Gay and Justin Gatlin also looked impressive, Gay winning his heat in 10.08 and Gatlin posting 9.97.
Bolt looked in good shape to defend his title, and he was pleased to recover from a stumble at the start of his race.
"I expected the reception in London and I was looking forward to it," he told BBC Sport. "I stumbled at the start but I'm glad it happened now and not in the final."
Gemili, who has only recently switched to sprinting from football, said after posting 10.11: "To come to the Olympics and to walk inside the stadium with the cheer is unbelievable for me.
"Things are happening quickly this year, but I have worked hard. I only started in athletics in January and the results are showing now.
"You have to respect Powell, but you can't respect your opponents too much. He is just another guy. I executed a good race and I am happy."
Chambers, able to compete at the Olympics after the Court of Arbitration for Sport overturned a life ban for doping, admitted to being nervous before competing.
"I am glad to get through the heat, the roar of the crowd was amazing," said Chambers. "It inspired me and I can see how much of an impact it is having on people like Jess.
"You can train all year but you have to run fast at the championships and I have been taking it step-by-step to get here. I am really happy to be here. It is a fast track and I need to get through the rounds."
Sunday's semi-finals start at 19:45 BST with Bolt in the second heat at 19:53 against Chambers and Ryan Bailey.
Blake will line up against Gay and Gemili, with Powell, Gatlin and Dasaolu in another heat. The top two from each go through of right, along with the two fastest losers to the final at 21:50.
In a bizarre twist ahead of the heats, former world champion Kim Collins was dropped from the 100m after being disciplined by St Kitts and Nevis officials for breaking team rules and leaving the athletes village.
He tweeted: "My fans. I won't lie. Won't be running later tonight. Even men in prison get their wives to visit."