Olympics hockey: China shock Great Britain's women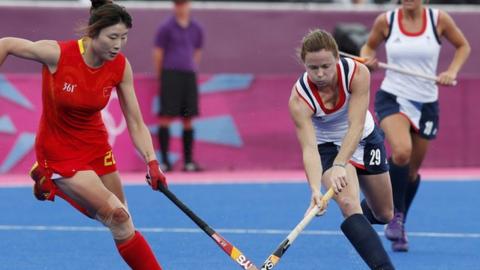 Great Britain's women suffered a blow to their Olympic hockey hopes with a surprise 2-1 loss to China at the Riverbank Arena.
The British had won their opening three group matches and another point would have secured a semi-final place.
However, China were resolute in defence and clinical at the set-piece, two penalty corners giving them control.
Crista Cullen scored with a minute left but GB must now get something from the final group match against the Dutch.
"They went a goal up, which of course they're going to defend really tight, and that's exactly what they did," said GB's Sarah Thomas.
"Had they still been chasing after a win the game would have been a lot more free flowing, so it just frustrated us more.
"Had we converted our corners in the first half maybe it would have been a different story, but it's just one of those games. Everyone gave 100% out there today and that's all we can ask. We just have to make sure we are ready for Monday."
There was some good news for Britain with the return to action of captain Kate Walsh, her jaw heavily bandaged after it was broken during the opening group match against Japan.
Another significant injury looked likely when Anne Panter was struck in the face by the ball and taken off with blood flowing, but she returned to the sidelines in the second half.
Penalty corner goals from Fu Baorong and Zhao Yudia did the damage on the pitch as Britain failed to find the form up front that had seen them score 12 goals in three games.
The closest they came to scoring in the first half was from four late penalty corners in succession.
Cullen finally flicked home a penalty corner with 80 seconds remaining but Britain could not threaten in a frantic closing minute and now face a testing encounter with Olympic champions the Netherlands on Monday at 19:00 BST.
"We'll debrief that game, but it will be about preparing for the next match," said Ashleigh Ball.
"We know we are definitely capable of beating the Dutch and I know our team believes that. China are a good side, it's not anything to worry about. It's not lack of form on our side, we now need to turn our attention to the next match."
The Dutch secured their semi-final place with their fourth win of the tournament, a 3-2 victory over South Korea. Belgium drew 1-1 with Japan in the other Pool A game.
Argentina beat Germany 3-1 to go top of Pool B and New Zealand edged out the US 3-2 to move into second ahead of Australia, who beat South Africa 1-0.