Olympics water polo: Poor start hurts GB in US defeat
Last updated on .From the section Olympics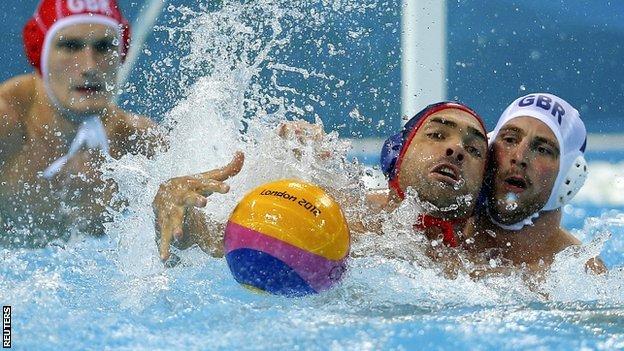 Great Britain's men lost 13-7 to the United states after a terrible start to their Olympic group match at the Water Polo Arena.
The home side were 7-0 down in under 10 minutes and despite holding their own in the latter stages, it was too late.
Britain have now lost all three matches in Group B, with the US at the top of the standings with a 100% record.
Next up for GB is their penultimate group match against Hungary on Saturday at 18:20 BST.
"We played them in Ireland in the Dublin Cup recently and we got our best result against them for decades," said GB's Ciaran James. "I'm sure we can get something from them."
On the slow start against the US, James added: "We've been thinking about it a lot. As soon as we go down in games we get motivated, even more motivated than usual. We start again as a team saying it's 0-0."
The other matches in Group B saw Montenegro and Serbia draw 11-11, and Hungary edge Romania 17-15.
"They picked me for doping test," said Hungary's three-time Olympic champion Zoltan Szecsi. "They simply cannot believe that such a great body can be built without any banned stuff."