Tom Daley makes London 2012 Olympics diving final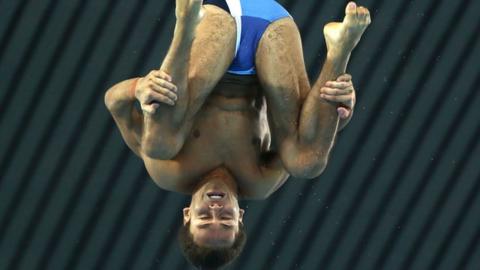 Tom Daley produced six consistent dives to qualify easily for Saturday's 10m platform final (20:30 BST).
After disappointing in the preliminaries, it was a timely return to form for the Briton, who qualified fourth behind American David Boudia.
China's Lin Yue and Qiu Bo were out in front, but defending Olympic champion Matthew Mitcham failed to win through.
"I'm gradually getting sharper," said Daley, 18. "Now I have qualified, I'm going to give it my best shot tonight."
Daley only made it into the semi-finals in 15th place, falling short of his best form in several dives, but he was pleased with his response.
"That was a lot better than yesterday," said the teenager. "That's the thing with diving, anything can happen, as you've seen with the Olympic champion not qualifying.
"After knowing the disappointment from the synchro, I really wanted to prove a point. Last night was tough to get through all that competition but I'm happy and anything can happen tonight."
Lin and Qiu traded superb scores throughout, with world champion Qiu being marginally more consistent.
But there will be a number of other surprising absentees when the 12 finalists reconvene to contest the medals.
Talented Mexican diver German Sanchez Sanchez also missed out, as did Russia's Gleb Galperin, a double bronze medallist in Beijing.