Olympic rhythmic gymnastics: Russia's Daria Dmitrieva leads
Last updated on .From the section Olympics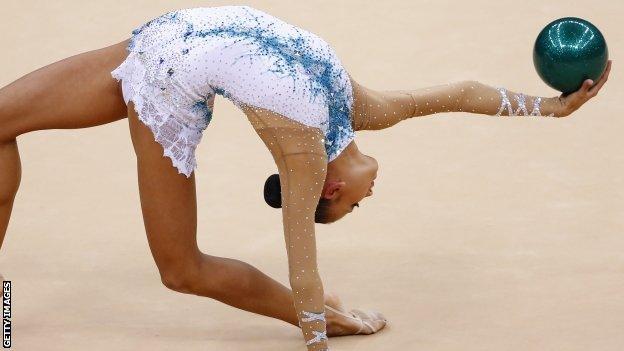 Russia's Daria Dmitrieva leads Olympic champion Evgeniya Kanaeva after the opening qualifiers of the individual all-around rhythmic gymnastics.
Dmitrieva is 0.175 points ahead of her compatriot after the hoop and ball routines at Wembley Arena. The final two rotations take place on Friday.
The 19-year-old only joined the Russian squad at the start of August to replace the injured Alexandra Merkulova.
Great Britain's Francesca Jones is in 21st place, with a score of 48.75.
Following the ribbon and club disciplines, only those with the top ten overall scores will qualify for Saturday's final.
Dmitrieva finished with a combined score of 57.8, but European and world gold medallist Kanaeva, 22, had the best single routine of the day when she scored 29.525 with the ball.
Welsh gymnast Jones, ranked outside the world's top 24, needed an invitation to compete at London 2012 as a home competitor, but she achieved her ambition of scoring more than 24 points in both of the opening day's routines.
Jones, who won the silver medal for the hoop at the 2010 Commonwealth Games, surprisingly recorded a higher mark of 24.55 with her ball routine.
But she was penalised for her routines' relative lack of difficulty, and recorded 24.2 with the hoop.
Great Britain finished 11th in the first rotation of the group all-around qualification.
Twelve teams of five gymnasts take part in two qualifying rotations, with the top eight going through to Saturday's final.
The British team of Rachel Smith, Jade Faulkner, Lynne Hutchison, Louisa Pouli and Francesca Fox lead last-placed Canada after scoring 24.15 points in the five balls routine.
The Russians, looking for their fourth consecutive Olympic gold, scored 28.375 and are ahead of second-placed Italy by 0.275 points.
Great Britain are the lowest ranked team in the qualifiers, but were eventually invited to compete as a home competitor after winning an appeal against their original exclusion.
In January, the team missed a target score set by British Gymnastics, but they argued the qualifying criteria had not been made clear to them and an independent arbitrator ruled in their favour following a hearing in London.