GB's synchronised swimmers sixth after technical routine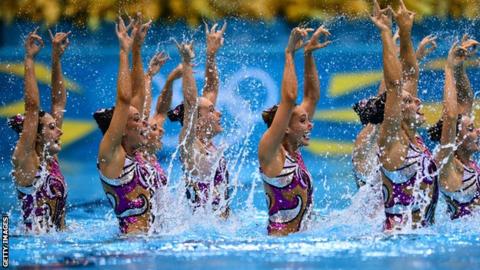 Great Britain lie sixth after the technical routine of the synchronised swimming team event at London 2012.
Cheered on by the Duchess of Cambridge, Team GB recorded a score of 87.3 points, well behind the 98.1 posted by overnight leaders and defending champions Russia.
China are second ahead of Friday's free routine, while Spain lie third.
GB are competing in the Olympic synchronised swimming team event for the first time.
Their team includes Yvette Baker, Katie Clark, Katie Dawkins, Olivia Federici, Jennifer Knobbs, Vicki Lucass, Asha Randall, Jenna Randall and Katie Skelton.
World champions Russia dominated the technical routine, in which teams of eight swimmers dance a sequence that includes a list of required moves.
The points will be added to the free routine, which is made up of moves of the team's own choice, for final scores.
China, who narrowly missed out on silver in the duet segment of the competition, will still be confident of securing gold after a crisply executed entry.