Olympics hockey: Netherlands thrash Great Britain 9-2 in semi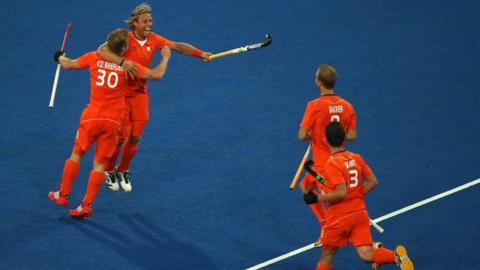 Great Britain's dreams of playing in their first Olympic men's hockey final since 1988 ended with a humiliating 9-2 defeat by the Netherlands.
British hopes were high of matching the gold medal winners of Seoul, but they were torn apart in the semi-final.
The Dutch were two up in 15 minutes before Ashley Jackson cut the deficit to 2-1, but the floodgates then opened.
The Netherlands will play Germany for gold on Saturday, after Britain and Australia contest the bronze.
Reigning Olympic champions Germany earlier beat the top-ranked Australians 4-2 in a dramatic contest, but it had nothing on the second semi-final in terms of goalmouth action.
Roderick Weusthof and Billy Bakker both scored hat-tricks, the former setting the tone with a vicious penalty corner flick on nine minutes followed by a sweeping finish for number two.
Britain had created one chance through a mazy run from Ben Hawes before Jackson gave them real hope with a clinical corner of his own after 18 minutes.
However, moments later the two-goal cushion was restored when Mink van der Weerden scored his sixth of the tournament - another penalty corner.
At 3-1 down and with half-time approaching, the home side were still in the game, but a brilliant team move finished off by Bakker put the Dutch 4-1 up just before the break.
Britain knew they had only one option when play resumed and they dominated the early stages of the second half, but after Jackson missed with another penalty corner chance the Dutch started to pick them off at will.
Two more from Bakker, a simple finish from veteran Teun de Noiijer and efforts from Floris Evers and Weusthof, again, made it 9-1.
Rob Moore slid in to get Britain a second with five minutes remaining, prompting good-natured chants of "You're not singing anymore!" from the home fans to the orange sections of the Riverbank Arena.
"Probably sorry to start with," said GB captain Barry Midleton when asked what he would like to say afterwards.
"Credit to the Dutch, they played a good game, they just generally passed, shot, tackled and ran better than us. There are not that many games when a team does every aspect better than you.
"The disappointing thing was we know that wasn't who we are. That wasn't really us. It is hard to explain why."
Coach Jason Leed said: "We could have shut it down at 4-1 and it would have been a less embarrassing result but it would not have been what we said we were about.
"I'm a bit embarrassed we are on the wrong side of it but we didn't perform how we aimed to perform - but we did aim to win and that is why we got so exposed."