Olympics sailing: Ben Ainslie ready to battle for gold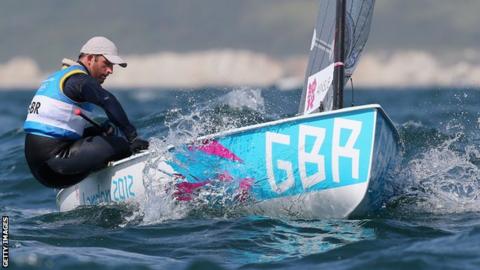 Ben Ainslie says he is prepared for a "huge battle" with Dane Jonas Hogh-Christensen as the Briton chases his fourth Olympic gold medal.
Ainslie needs only to finish ahead of Hogh-Christensen, and no worse than seventh if Pieter-Jan Postma wins Sunday's finale, to become the most decorated Olympic sailor ever.
"It's going to be a huge battle," said Ainslie after narrowing the gap on Hogh-Christensen to two points.
"But I'm up for it."
Ainslie, 35, has trailed Hogh-Christensen all week.
But he had fought back to three points adrift going into Friday's final two races to decide the top 10 for the medal race.
He posted a sixth and a first in Weymouth, with the medal-race finishing positions counting for double.
Hogh-Christensen recorded a fifth and a third, while Dutchman Postma was 14 points further back in third after a first and a second.
In an absorbing and potentially pivotal concluding race on Friday, Ainslie slowed while holding a big lead, seemingly pondering whether to wait for Hogh-Christensen and try to sail him down the fleet to affect his finishing position.
If Hogh-Christensen had finished second, Ainslie would have had to make sure he beat him by two places on Sunday.
As it was, Postma pipped the Dane to second which set up the head-to-head between the Briton and Hogh-Christensen.
Ironically, it was Hogh-Christensen and Postma that Ainslie accused of "teaming up" on him by claiming he had touched a mark on Thursday.
"It was pretty crucial the Dutch sailor managed to overtake Jonas, which to all intents and purposes, puts us equal going into the medal race," added Ainslie, who won silver in Atlanta prior to his three straight golds.
"There was an opportunity maybe for me to try to block Jonas's air.
"But I couldn't afford to give up too much ground in case things went wrong on the run and they overtook me. Thankfully the Dutch guy PJ overtook me and did his job."
Ainslie admits he was worried after six races that his dream of overhauling Dane Paul Elvstrom as the most decorated Olympic sailor was in danger.
"This event has definitely been a scrap for me and I'm a little bit frustrated it's taken me until the final race to find that turbo button," he said.
"But it was important to get those points back."
Sunday's race will be sailed on the Nothe course nearest to Weymouth in front of the ticketed spectator area, and Hogh-Christensen is ready for the challenge.
"It's what we're here for, it's why we love racing," he said. "But I still think Ben is the favourite to win gold."
In the event of a tie, the medal-race head-to-head then comes into play.