Tom Daley scrapes into Olympics diving semis as Waterfield exits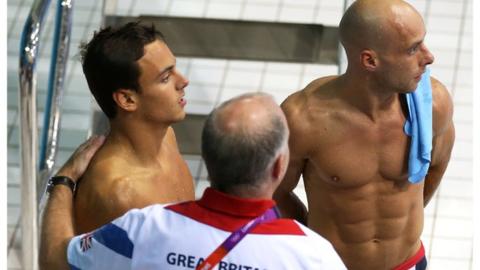 British diving star Tom Daley survived a poor preliminary round in the 10m platform to edge through to Saturday's semi-finals.
A disappointing start was compounded by a sloppy fifth dive to leave him in 16th place with a round to go.
The 18-year-old did just enough with his final dive to move up to 15th, with the top 18 in the 32-man field progressing.
Team-mate Peter Waterfield could only finish 23rd and is now out.
Waterfield, who won a silver medal in the 10m synchro at the 2004 Olympics, was in second to last place after two rounds.
The 31-year-old gave himself a chance with a superb third dive and solid fourth effort, but the inconsistency returned in round five and his Olympics are now over.
He told BBC Sport: "It wasn't meant to be for the whole of the Olympics. I've been training well for a long time but it's about what you do in competition and that was just terrible."
Daley, the sport's poster boy, has been in good form this season, claiming three second-place finishes and a first in the World Cup Series.
But the teenager never looked happy on Friday and his fifth dive was one of the worst of his usually spectacular career, a 39.60 for a backward three-and-a-half somersault.
A score of 84.15 in the sixth round put some gloss back on his display but he will need to improve to make the final.
"If I was going to have a bad competition, today was the best to do it on," he said. "It was definitely the worst I've dived all year.
"It's nerve-wracking because you don't know what is going to happen. In my last dive, it was now or never and thankfully I made it."
Daley's Chinese rival Qiu Bo had guaranteed his qualification after five rounds and finished a massive 115.25 points clear of Daley's total.
Bo's Chinese team-mate Lin Yue was second, with only Germany's Sascha Klein getting anywhere near their consistency.
The scores are wiped clean for Saturday's semi-finals, which begin at 10:00 BST, with 12 advancing to the finals at 20:30.