Andy Murray to face Roger Federer for tennis gold medal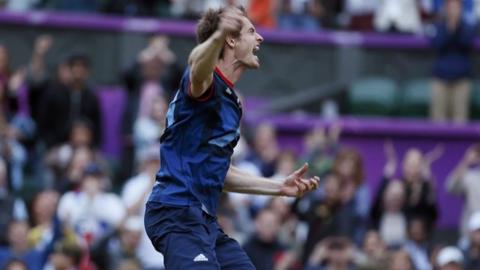 Britain's Andy Murray will meet Roger Federer in the Olympic men's singles final on Sunday after securing a straight-sets win over Novak Djokovic.
Murray beat the Serb world number two 7-5 7-5 in exactly two hours on Wimbledon's Centre Court and is now guaranteed at least a silver medal.
Standing between the Briton and the biggest title of his career is Federer, who beat him in the Wimbledon final.
The Swiss overcame Juan Martin del Potro 3-6 7-6 (7-5) 19-17.
Murray said: "I just wanted to try and win a medal, for the team, for the country and lastly for myself. I'm so happy, I would love to win the gold medal.
"Before the tournament started that was the goal, to try and win a medal. So to guarantee a medal is great and I'll go for it in the final."
Federer admitted to being "extremely drained" by the marathon encounter, but he was finished more than an hour before Murray started against Djokovic.
In addition, Murray must play at least one mixed doubles match with Laura Robson on Saturday after their quarter-final against Lleyton Hewitt and Sam Stosur was delayed.
Murray troubled the five-time Grand Slam champion from the outset, registering two early break points before striking with a crosscourt forehand in game 12 of a near-faultless first set.
Murray averted danger in his first two service games of the second set as Djokovic looked to restore parity, saving further break points to hold for 5-4 and 6-5.
The excited spectators, mixed chants of "GB! GB!" with "Murray! Murray!", and the home favourite responded by wrapping up victory with a break to love.
Next up is Federer, the man who beat him at the All England Club on 8 July. Exactly four weeks on from that defeat, Murray has a chance to exact revenge.
Murray added: "It's been an amazing month and one of the best of my career. The support that I have had over the last month, after Wimbledon, I really needed it.
"All the times that I have lost in a Grand Slam final I've had a tough time afterwards for a few months. But coming here with the motivation of playing in the Olympics and with the support that I have had has been all the motivation that I needed."
Federer struggled to handle the windy conditions against Del Potro and, at 6-3 7-6 (4-4), the 2009 US Open champion was three points away from victory.
The 17-time Grand Slam winner served to stay in the match on 12 occasions before eventually prevailing and kissing the Swiss badge on his shirt, also with tears in his eyes.
The longest men's three-set match before Friday was Rafael Nadal's 3-6 7-6 (7-5) 7-6 (9-7) semi-final victory over Djokovic in four hours and three minutes at the 2009 Madrid Masters.
Earlier in the week, Frenchman Jo-Wilfried Tsonga's 6-3 3-6 25-23 win against Canadian Milos Raonic was the longest three-set match in terms of number of games.