Olympics swimming: Fran Halsall eases into 50m freestyle semi-final

By Nick Hope
BBC Sport at the Aquatics Centre
Last updated on .From the section Olympics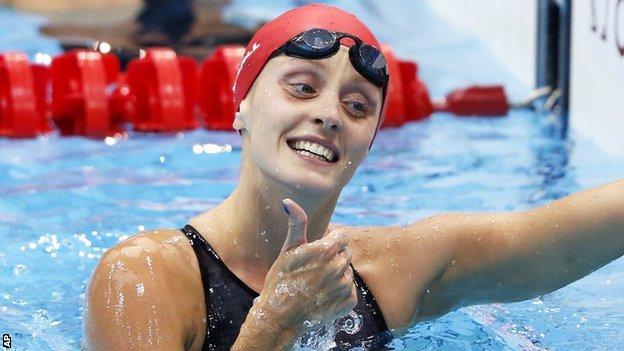 Great Britain's Fran Halsall shrugged off the disappointment of missing out on a medal in the 100m freestyle by qualifying for the 50m semi-finals.
Halsall was just 0.22 seconds from a bronze medal on Thursday, but her 24.61 made her the third quickest 50m qualifier.
"That's the fastest morning swim I've ever done," said Halsall. "This is it now - I'm on it.
"To be able to walk out here you feel like a superstar. It has been amazing."
She added: "I'm so glad I get to swim here on the last day. [This week] has gone so quickly; it's crazy."
Amy Smith, Halsall's team-mate, finished in a three-way tie for 16th and had to win a swim-off to secure her place in the semis.
Her achievement was more impressive given that she had helped the women's 4x100m medley relay team qualify for Friday night's final just 15 minutes earlier.
The men's 4x100m medley relay team delivered one of the most impressive performances of the morning session.
Liam Tancock, Craig Benson, Michael Rock and Adam Brown swam an impressive three minutes 33.44 seconds to qualify second fastest for the final on Friday night.
Daniel Fogg progressed to Saturday's 1500m final in 14:56.12, but two-time Olympic medallist David Davies failed to qualify.
After an injury- and illness-plagued couple of years, Davies admitted it was "probably" the last race of his competitive career.
"I would liked to have gone out on a better note, swimming in your home country," he said. "When I get it all into perspective, I will be really proud of what I've done."