Olympics beach volleyball: Surprise exit for American pair
Last updated on .From the section Olympics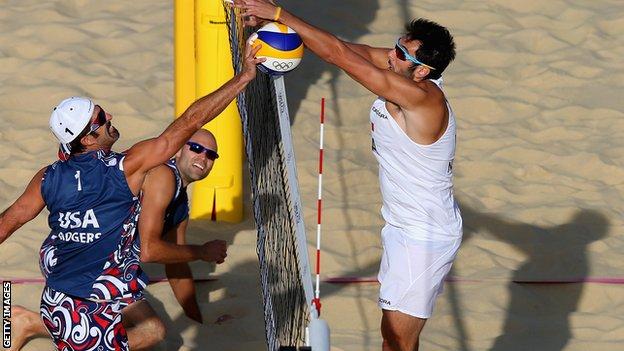 Defending champions Todd Rogers and Phil Dalhausser were knocked out of the Olympics by Italian pair Paolo Nicolai and Daniele Lupo.
The Americans lost the round-of-16 match 21-17 21-19.
Brazil duo Ricardo Santos and Pedro Cunha progressed to the quarter-finals with a 21-18 21-19 win over Spain's Pablo Herrera and Adrian Gavira.
Latvia's Martins Plavins and Janis Smedins and Poland's Mariusz Prudel and Grzegorz Fijalek also progressed.
In the women's competition, Austrian sisters Stefanie and Doris Schwaiger beat Russians Anastasia Vasina and Anna Vozakova 21-17 16-21 15-9 to advance to the last eight.
Top-seeded Brazil pair Juliana Silva and Larissa Franca also advanced, eliminating the Netherlands 21-10 21-17.
USA's Jennifer Kessy and April Ross beat Switzerland's Simone Kuhn and Nadine Zumkehr while German duo Laura Ludwig and Sara Goller beat compatriots Katrin Holtwick and Ilka Semmler 21-16 21-15.