Olympics table tennis: GB men and women out in first round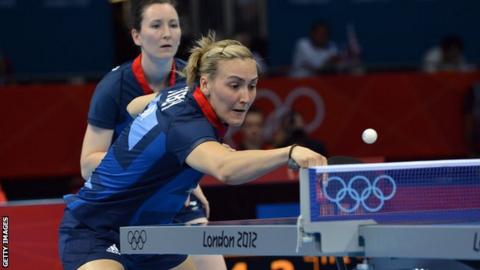 Great Britain's men and women both lost in straight matches as they were knocked out in the first round of the table tennis team event at London 2012.
The women's team of Joanna Parker, Kelly Sibley and Na Liu were beaten 3-0 by the North Korean trio of Ri Myong-Sun, Kim Jong and Ri Mi-Gyong.
They were followed by the GB men - Paul Drinkhall, Liam Pitchford and Andrew Baggaley - who lost 3-0 to Portugal.
Favourites China beat Spain 3-0 to reach the women's quarter-finals.
Singapore, who were runners-up to China in Beijing four years ago, went through with a 3-1 win over Poland.
South Korea, Hong Kong, Netherlands, Japan and Germany also won their matches to reach the women's last eight.
In the men's first round, Hong Kong, Austria and Germany booked their quarter-final places.
China, the men's Olympic champions in Beijing, face Russia in the first round on Saturday, with North Korea taking on South Korea.