Elena Baltacha column: Emotion of carrying Olympic torch

By Elena Baltacha
British number four
Last updated on .From the section Olympics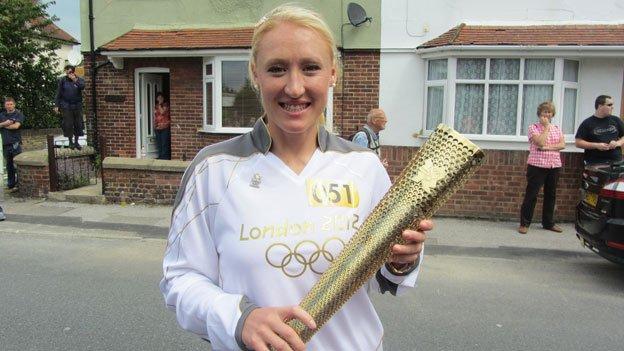 The moment when I was handed the Olympic torch was one of the most emotional and amazing moments of my life, let alone my career.
Before it was my turn, I watched my fellow torchbearers go out and run their leg of the relay through and every single one of them was in floods of tears when they got back on the bus which carried us along the route in Kent.
It was nice to chat and get to know them all as we drove along, waiting our turn, and everyone I spoke to had given so much to their communities and really deserved to be there. I think we bonded because we all knew that we were going to be part of something incredibly special.
I thought I'd be fine but the second the flame took on my Torch I couldn't hold back the tears and I had to keep wiping my eyes as I was running along.
It went so quickly - 350 yards or so - and it was a bit of a blur of people waving and cheering all around me. I have to say I was really surprised at how many people turned out to watch, not just my leg of the relay but all morning as we drove around Broadstairs and the areas around St Peter's. There were flags and signs everywhere.
As the Olympics get closer, you can feel the excitement building, not just from people lucky enough to be involved, but from everyone around. If you love sport, how can you not be excited about having it in our country? Especially when, as a country, we have so many great athletes competing.
Tomorrow I will go to the Olympic Park for the first time and get my accreditation, which will be another little milestone. It will be great to see all the facilities, and next week we will get to see the Athletes' Village as well, which I'm really looking forward to.
The tennis being at Wimbledon will be brilliant, because it's somewhere that is special to every player, especially the Brits, but it does mean that most of us will not be around the Olympic Park much and I don't think many people will stay in the Athletes' Village.
I am staying with the same family I have stayed with during the last two Wimbledons because it's five minutes from the Club and it'll be very relaxing to be back there.
It's a difficult balance wanting to enjoy the Olympic experience as much as possible but also putting performance first.
Tennis starts the morning after the opening ceremony and there won't be many players wanting to be first on that morning, because we would all love to be at the opening ceremony and having that moment of walking out as part of Team GB.
I'm very lucky because as well as being given a place in the singles by the International Tennis Federation (I still can't thank them enough!), Anne Keothavong and I have moved into the main draw of the ladies' doubles too.
We're both thrilled, even though we feel sorry for Monica Niculescu and Irina-Camelia Begu, whose spot we took when Niculescu was injured.
Anne and I have enjoyed some incredible moments together through our careers, especially playing Fed Cup, and we really enjoyed playing doubles together at Wimbledon a couple of weeks ago. It's going to be a real pleasure for us to go out there and compete hard as part of Team GB.
Between now and the start of competition I'll mostly be practicing on the grass at the National Tennis Centre and making sure I'm ready.
I'm sure the excitement amongst all of us playing for Team GB will just build and build from here, but for now I'm going to cherish today and what it felt like to carry the Olympic Torch in my hand - and try not to cry again!