London 2012: Spoilsports who could poop Team GB's party

By Ollie Williams
BBC Olympic sports reporter
Last updated on .From the section Olympics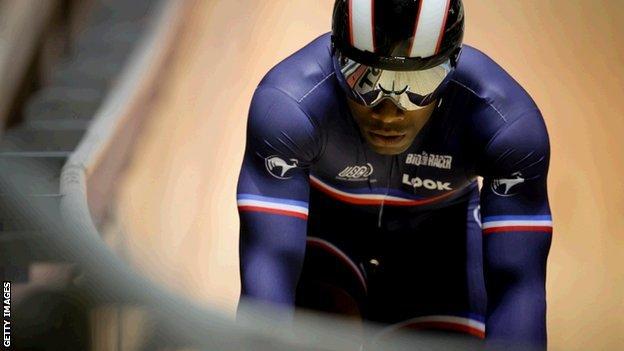 Bad news: It turns out other nations can compete at London 2012.
Led by an expectant British media, gold medals are already being pinned on a host of British athletes, from triathletes to sailors, cyclists and boxers.
Some are clear favourites but the rest of the world's finest will still do everything to stop them winning - most while facing nothing like the same pressure to perform.
Here we take a sample of Britain's big names and gold medal prospects. From their many opponents, we have selected one rival who could spoil their party at London 2012.
Victoria Pendleton - Track Cycling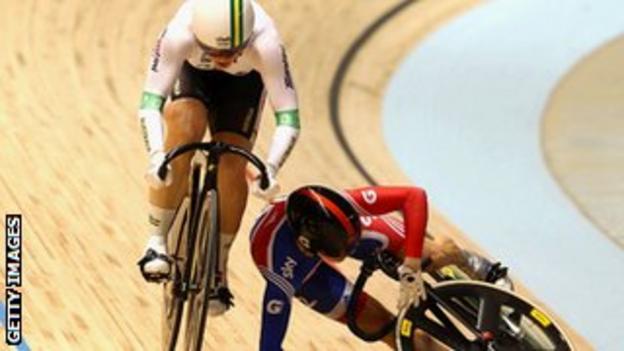 Meet... Anna Meares
Victoria Pendleton won five track cycling sprint world titles from 2005 to 2010, to the frustration of Australian arch-rival Anna Meares, who also finished up on the losing side as Pendleton won the 2008 Olympic final. Then, in 2011, the run ended and Meares took the gold as the Briton's form dipped alarmingly.
Pendleton, now 31, came through a dramatic and bruising encounter with Meares at this year's World Championships, on Australian turf, en route to reclaiming the world title - and the momentum in one of the Games' biggest personal rivalries. The two are not friends, as confirmed by Pendleton in a BBC documentary which made clear how big a factor defeating Meares will be for her this summer. "The only thing that really matters to me is going well in London," she said.
Men's Team Pursuit - Track Cycling
Meet... Australia
Cycling's Ashes extends to a far broader field than Meares and Pendleton, with the men's team pursuit all but guaranteeing another collision between Great Britain and Australia.
The two five-man squads have traded world records in the build-up to the Olympics with Britain, again, stealing the win at April's World Championships in Melbourne. Jack Bobridge, in particular, is a presence British fans could come to resent. The British credit Bobridge's phenomenal strength with hauling Australia up to level terms after Team GB won team pursuit gold at Beijing 2008.
Jason Kenny - Track Cycling
Meet... Gregory Bauge
Australians aren't the only track cyclists hoping to rain on a British parade. Sir Chris Hoy's sprint title, one of three he won at Beijing 2008, looks under immense threat from France's Gregory Bauge (pictured, top) - and there is not a thing Hoy can do about it.
British Cycling announced on Thursday that Jason Kenny - the silver medallist behind Hoy in 2008 - will race in the sprint at London 2012, up against Bauge, after rule changes reduced nations' quotas from two to one rider per event in the velodrome.
Bauge, 27, has won three of the last four sprint world titles. The other, in 2011, was stripped from him after he missed several dope tests and handed to second-placed Kenny.
Jessica Ennis - Heptathlon
Meet... Tatyana Chernova
Jessica Ennis is unrivalled as the poster girl for British hopes at London 2012, but her Russian rival Tatyana Chernova is both two years younger and the defending heptathlon world champion, having defeated Ennis in South Korea last year.
The two have spurred each other on for years since Ennis missed Beijing 2008, where Chernova won bronze. Ennis has the edge in the 200m and hurdles elements of the seven-discipline event, while Chernova can gain ground in the javelin, an area where Ennis has traditionally had to work harder. Ennis, crucially, beat Chernova in the annual Austrian warm-up event in May, setting a new British record in the process.
Alistair Brownlee - Triathlon
Meet... Alexander Bryukhankov
There are some who would say Alistair Brownlee's younger brother, Jonny, is the real potential spoilsport here. The two have dominated men's triathlon over the past two years, Jonny winning any race Alistair - who spent the early part of this year injured - did not enter.
Moreover, Russia's Alexander Bryukhankov has yet to win a world series race. How can he be a contender? Take a look at his consistency - never out of the top four or five at the top level, and importantly the only one within touching distance of Alistair Brownlee at last year's Hyde Park race, which was run in the same abysmal weather we can half-expect this time around. Bryukhankov leads this year's world series standings.
Rebecca Adlington - Swimming
Meet... Federica Pellegrini
Rebecca Adlington is defending two Olympic titles at London 2012 over the 400m and 800m freestyle distances. She is world champion in the latter, but Italy's Federica Pellegrini has since made the 400m her own in major events, winning world titles in both 2009 and 2011.
Both athletes could be distracted by other freestyle events - Adlington has the 800m and Pellegrini the 200m, in which she is the Olympic champion. The Italian, who turns 24 the day after London 2012's swimming events finish (Adlington is several months younger), has also changed coach a number of times, including a split with Philippe Lucas, who helped her to double gold at the 2011 Worlds. Adlington is notably faster than Pellegrini this year, and it may be that others (France's Camille Muffat, American Allison Schmitt) have a big say in the destination of this summer's 400m gold.
Louis Smith - Gymnastics
Meet... Krisztian Berki
Louis Smith is the gymnast with Britain's best chance of grabbing a gold medal at London 2012. His pommel horse routine won him a bronze medal in Beijing four years earlier and his personal best of 16.375, set only last month at the British Championships, is a score his rivals are unlikely to match.
However, to replicate that at the Games he will need a perfect routine. If he makes just one error, the likelihood is that his Hungarian rival Krisztian Berki will take the gold. Berki, four years older than Smith at 27, is the world and European champion. While Smith's recent form is superb, he has barely beaten Berki in international head-to-head contests and must hold his nerve during the world's most difficult routine to be sure of winning in London.
Tom Daley - Diving
Meet... Qiu Bo
Even the most fervent Tom Daley fan - and there are plenty to choose from - must concede that the teenager's chance of an Olympic title in either of his diving events is a slim one. An Olympian at the age of 14 and a world champion just one year later, Daley has since found his path blocked by 19-year-old Chinese star Qiu Bo.
China, remarkably, won all 10 diving events at the 2011 World Championships, while Daley had to settle for fifth as an individual and sixth in the synchro final. The shaft of light for Daley may be that Qiu Bo has occasionally cracked under the pressure, but - with a handful of other rivals in the mix - it will take a phenomenal performance and a slice of luck for Daley to win diving gold this summer.
Sarah Stevenson - Taekwondo
Meet... Hwang Kyung-Seon
Sarah Stevenson won a bronze medal at Beijing 2008, but that was in the +67kg weight category. She has since swapped to the lighter -67kg class, where she will have to get past defending Olympic champion Hwang Kyung-Seon of South Korea to win the gold.
Hwang, 26, is returning for her third Olympics and hails from a country which takes its taekwondo incredibly seriously. At last year's World Championships, a haul of three gold and four silver medals for South Korea - on home soil - was considered a disappointment. Stevenson's build-up has been hit by injury and Hwang, who only won world bronze in 2011, has a point to prove.
Shanaze Reade - BMX
Meet... Magalie Pottier
Shanaze Reade's crash in the 2008 Olympic final, as the heavily-backed favourite, became one of Beijing's most memorable moments. Now 23, Reade believes she has the maturity to hold it together at London 2012. But France's Magalie Pottier leads the charge among a number of rivals who could feasibly ride their way to gold.
Picking a BMX winner is not easy - all three 2008 Olympic medallists never again won a major medal, though Olympic champion Anne-Caroline Chausson went on to coach Pottier, who is half a year younger than Reade and the current world champion, having taken bronze the year before. New Zealand's Sarah Walker, twice a silver medallist in the past three years, and Colombian flagbearer Mariana Pajon are two other strong candidates.
Paul Goodison - Sailing
Meet... Tom Slingsby
From 2002 to 2010, Paul Goodison did not drop out of the world's top three in his Laser sailing class. Now? He's ranked 10th. That figure will not matter much off the coast of Weymouth this summer, but it may be worth noting that Australia's Tom Slingsby is ranked world number one heading into the Games.
Not only that but Slingsby - seven years younger than Goodison, who is 34 - locked horns with the Briton in what reports termed a "heated argument in the pub" last month, following a race. That earned Slingsby the headline "Ready to rock the boat in medal fight with Poms" back home.
Lucy MacGregor - Sailing
Meet... Anna Tunnicliffe
Big GB-US match-ups are surprisingly rare at the Games, but this is one of the best. Lucy MacGregor skippers the British three-woman match racing boat and is number two in the world. Anna Tunnicliffe - nickname 'Tunnafunk', we're told - fills the same role for the United States and is world number one.
Tunnicliffe, 29, won Laser Radial gold in Beijing but hopped over to the new Elliott 6m class for a fresh challenge ahead of London. She also speaks with a British accent, having grown up in England until moving across the Atlantic at the age of 12. Her US citizenship arrived in 2003, and she insists an Olympics in Britain "is not 'going home' at all".
Bradley Wiggins - Cycling Time Trial
Meet... Fabian Cancellara
At the time of writing, Bradley Wiggins looks set to win the Tour de France. That is road cycling's crowning achievement and would be enough to persuade most people to merrily take the rest of their lifetime off, recuperating - but Wiggins has an Olympic road race within a week and then his main gold-medal target: the time trial.
Wiggins is the world time trial silver medallist, heading into his fourth Olympics at age 32. In his way is the defending Olympic champion, Swiss rider Fabian Cancellara, a man who has time and again declared his passion for the Games - "the biggest thing in sport" as he calls it - not a view every pro cyclist shares.
This may come down to outside forces. Can Wiggins keep himself in the right shape and frame of mind, post-Tour, to be effective at the Games? And can Cancellara, who left the Tour in its early stages to be with his pregnant wife, regain focus for the Olympics?
Men's Four - Rowing
Meet... Australia
Whose foursome is more 'oarsome'? Hard to tell at this point. The British four won the 2011 world title but coach Jurgen Grobler still chose to re-jig the crew for the Games, bringing in Pete Reed and Andrew Triggs Hodge, which looked to have given them an edge in the early part of the season.
But Australia's four has been remodelled too and Britain tasted defeat twice in succession at the final World Cup regatta before the Olympics, in Munich. Australia were just a second off the pace when Britain won gold at Beijing 2008 - can the British hang on again at Eton Dorney in the days to come?
Mo Farah - 10,000m
Meet... Kenenisa Bekele
Mo Farah is looking to pick up an Olympic distance double in the 5,000m and 10,000m at London 2012. For inspiration he can look to Ethiopia's Kenenisa Bekele, who did exactly that at Beijing 2008 and won over the longer distance in Athens, too.
Bekele has failed to qualify for the 5,000m at London 2012 but remains a big threat in the 10,000m, putting in a quick time as he chased Olympic selection in Birmingham last month. A persistent calf injury could hold him back at the Games and open the way for Farah to take gold.
Dai Greene - 400m Hurdles
Meet... Javier Culson
Among several dangerous rivals to Dai Greene in the men's 400m hurdles, Puerto Rico's Javier Culson is the name that stands out. Culson, who turns 28 just before the Games begin, was second behind Greene, 24, at last year's World Championships but marginally has the edge on the Welshman based on 2012 times.
Greene ran his personal best of 47.84 seconds in Paris earlier this month - the only problem is Culson ran faster in the same race, winning in 47.78, the year's leading time. When Culson won again in London, the newspapers summed up the challenge facing Greene as "three weeks to find two metres".
Mark Cavendish - Cycling Road Race
Meet... Peter Sagan
Normally, the news that elite Norwegian sprinter Thor Hushovd - a genuine Olympic road race contender - will not compete at London 2012 through illness would hand a modest boost to the credentials of world champion and home favourite Mark Cavendish.
However, he now has to pay attention to Slovakia's Peter Sagan, one of the stars of this year's Tour de France. Sagan, 22, has already declared "I want to win everything" and may be in the form to make a concerted push for Olympic road race gold. Though there are many more contenders in the offing and Sagan will be riding with no team support, he should deal well with the multiple climbs of Box Hill that the London course demands.
Nicola Adams - Boxing
Meet... Ren Cancan
In 2010, Nicola Adams - the first English woman to win a major boxing medal - picked up the second world silver medal of her career. The winner of that fight? China's Ren Cancan. Two years later, Adams came back for more. She went away with another silver, Ren Cancan with another gold.
When women's boxing makes its Olympic debut at London 2012, the Chinese boxer will be the favourite. But Adams has beaten her before and with a home crowd, may be able to find a way past when it matters.