London 2012: Kelly Holmes inspires GB women's footballers
Last updated on .From the section Olympics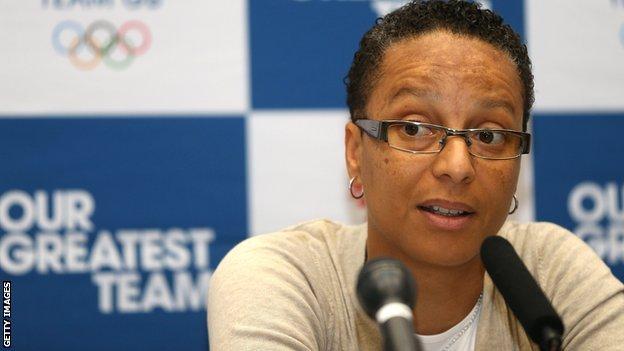 Coach Hope Powell has revealed the Great Britain women's Olympics football team have been motivated by a speech from Dame Kelly Holmes.
The women will take on Sweden in a warm-up friendly on Friday at Middlesbrough with the 2004 double gold medallist's words fresh in their minds.
"Kelly came to speak to us and put her take on it about what it actually means to be an Olympian," said Powell.
"It really hit home with the girls, about embracing this one-team ethos."
And she added: "If you've never experienced an Olympic village, it's fantastic. As one team you sit, eat and chat together from all different sports, and it is about Team GB doing well.
"We want to do well as footballers, but also as part of that whole team concept, which is great."
Great Britain's first competitive Olympic match is against New Zealand in Cardiff next Wednesday.
Powell, who has coached the England side for 14 years, believes the Sweden game will be the ideal test.
"I think it gives us a benchmark of where we are with the squad and an opportunity to have a real good look at players," she said.
"Playing against Sweden, who were medallists at the World Cup, it is a good leveller to see how much we need to do before the first game against New Zealand."
Britain's men's side take on Brazil following the women's match with Sweden.