London 2012: Staying calm is key - former Olympian Bill Tancred
Last updated on .From the section Olympics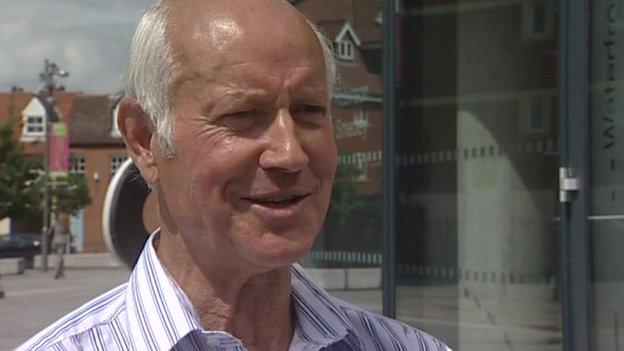 Staying calm under pressure will be the key to success for Britain's London 2012 medal hopefuls, according to double Olympian Bill Tancred.
A seven-time national discus champion, Tancred competed at the 1968 and 1972 Games but did not make the podium.
"If you want something, you've got to be very focused and very controlled and just keep calm under pressure.
"If they can relax and perform to their expectations, they'll do exceptionally well," he told BBC Look East.
The 69-year-old, now chairman of Suffolk Sport, won bronze and silver medals at the Commonwealth Games in 1970 and 1974 but admitted he "should have done slightly better" when he came to the biggest stage of them all.
"When you come into an arena with 80,000 people and you see that wonderful flag, the Union Jack, it does raise you.
"Although I'm six foot four, I felt six foot 10, I felt so proud to get into the arena - but once you start to compete, the pressures start.
"Some can handle it exceptionally well, some raise their game and some fall by the wayside.
"It's very intense. I think those who are earmarked to be medal winners, first, second and third, I think the pressure's on there and it must be horrible if you're going for the gold medal and it doesn't come."
Although the pressures of competition are the same, Tancred said the lives of Olympic athletes 40 years ago were very different to their modern day equivalents.
"I was a young man with three young children driving a Morris Minor with a split windscreen, pre-1955, and today they're driving sponsored Jaguars and whatever, that tells the story of how the sport has changed dramatically," he explained.
Tancred's final Olympics in Munich was overshadowed by the murder of 11 Israeli athletes and coaches by the Palestinian 'Black September' organisation but he believes the correct decision was taken to allow the Games to continue.
"I actually thought that was the end of the Olympic Games - the flame had been put out - and several athletes went home," he recalled.
"I think that was the change from being a very friendly global event to one which is now security conscious.
"It was the right decision but at one stage, (it looked like) the Olympic movement as we see it today could have been finished."