Emma Pooley hails 'brilliant' Tour performance by Bradley Wiggins
Last updated on .From the section Olympics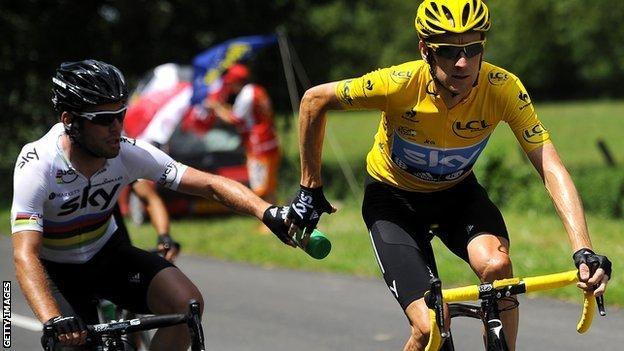 London 2012 medal hopeful Emma Pooley has hailed Bradley Wiggins' "brilliant" performance in the Tour de France.
Wiggins is poised to become the first British rider to win Le Tour when it concludes in Paris on Sunday.
"His achievement and performance are absolutely brilliant," said Pooley, who won a silver medal in the women's time trial at the 2008 Olympics in Beijing.
"The performance of the Sky team is just wonderful - I just wish we had a Tour de France for women."
The 29-year-old told BBC Radio Norfolk: "It does get my goat a bit.
"Basically, it's entertainment watching a sport like cycling, and I don't see why women's (road) cycling can't also be good entertainment.
"It just doesn't get on TV, so the sponsors aren't as into it, and there aren't as many races.
"There used to be a women's Tour de France actually but it died out along the way and our biggest race is actually Giro d'Italia - but no-one notices because they're all busy watching the Tour de France."
She continued: "I'd love to race in the Tour de France. They do so many days in the mountains and our races aren't such challenging courses."
But Pooley, who received an honorary degree from the University of East Anglia in her home town of Norwich on Friday, does not have long to wait before her latest challenge as she takes to the road at the Olympics.
She will be in action in the women's road race on 29 July and will then defend her time trial title three days later.
Despite coming second in the Giro d'Italia earlier this month, Pooley played down her chances of gold in the road race.
"I really don't care which of us wins as long as one of us does.
"It's a funny sport, road racing, because you race as a team but only one person wins, and you don't all get medals, but that is the way it is," she told BBC Look East.
"I don't really have much of a chance in the road race because I think it'll probably be a sprint and I can't sprint for toffee.
"The time trial is more my event so I'm focusing more on that because that's the event I've been better at over the last few years."