London 2012: Grant Turner learns to keep the faith
By Caroline Chapman
BBC Sport
Last updated on .From the section Olympics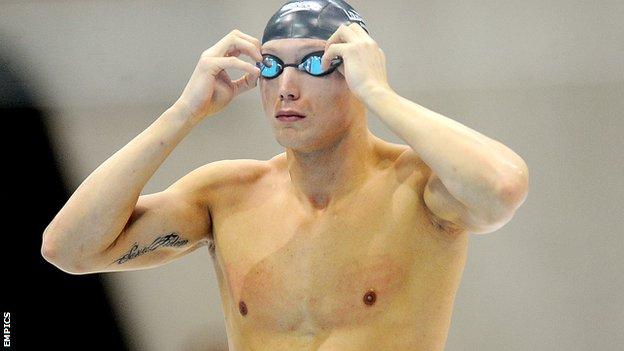 It is sometimes hard to ascertain what goes through the mind of an Olympian before they start what could be the most important race of their career.
For British swimmer Grant Turner, it is the words, and heavy rock anthems, of John Francis Bongiovi.
"I'm a massive Bon Jovi fan and one of their songs is called 'Keep the Faith'," Swindon-born Turner told BBC Wiltshire.
"That song has always stuck in my mind and I always listen to it before big meetings.
"I've even had the words tattooed on the inside of my arm - it means that much to me.
"Directly before a race I like to put my music on and get in my own little world. I try to stay relaxed because in sprinting it's not great to be uptight - that's where you lose seconds."
It would be easy to scoff at Turner's admiration for the ageing American rockers, but the 23-year-old has taken their 1992 hit to heart, and is convinced their words helped him clinch a place in Team GB's 4x100m freestyle relay squad for the forthcoming Games.
"It helped me in my first trials. I had to keep the faith because at times it was tough."
So tough, in fact, he was close to quitting the sport all together.
Although he narrowly missed out on a place at Beijing in 2008, Turner's Commonwealth silver medal in the 4x100m relay in Delhi two years later stood him in good stead for London.
But an out-of-sorts seventh-placed finish at the first selection trials in London in March left the Loughborough-based swimmer on the brink of missing a second consecutive Games.
"It was a week after the first trials," he recalled. "I said to my mum and dad 'I don't think I can keep doing this'.
"I've had a lot of success in the sport and I'm very grateful for that but sometimes the knockbacks are almost tenfold to the successes you have.
"We're athletes and sports people hate to lose and when we do lose we take it quite badly.
"But my partner [fellow GB swimmer, Jo Jackson] said I'd be silly to walk away now after working so hard for all these years."
Everything was riding on his performance in the 100m freestyle at the National Championships in Sheffield, which doubled up as a second trial for London 2012.
He turned up - he finished first in the heats and won silver in the final.
"It was a strange way for me to qualify after missing out on the first trials. I thought it was over," he said.
"My first reaction was relief. I looked around poolside and thought it should be enough to get me on the team.
"I'm not a very religious person but I looked up to the sky and said a little thank you under my breath."
Now, just a month after being confirmed in the squad, Turner certainly is not lacking faith in the team's chances.
"We can definitely make the final, and that's got to be our first goal," he said.
"It will then be a case of jumping up the places and going as high as we can get.
"The Australians, the French and the Americans are ruling the world at the moment but that's not to say we can't win a medal.
"We're going to go there and certainly act like we can."
Turner was talking to BBC Wiltshire's Ian Longdon