London 2012: Sir Chris Hoy says team sprint quicker than in Beijing
Last updated on .From the section Olympics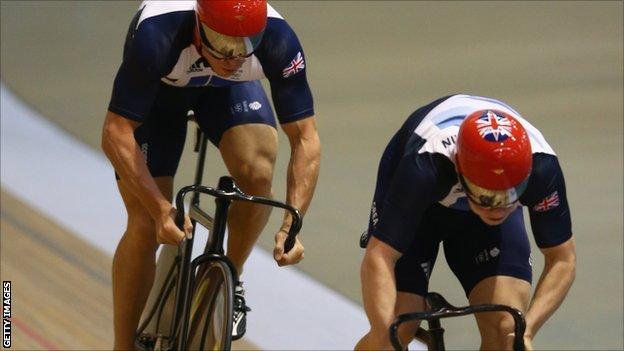 Sir Chris Hoy says Britain's men's sprint team are going better in training than they did at the 2008 Beijing Olympics, where they won gold.
The four-time Olympic gold medallist also backed team-mate Jason Kenny to win gold in the individual event.
Hoy said: "In training we've got quicker than we did in Beijing so that bodes quite well."
And sprinter Victoria Pendleton said she and team-mate Jessica Varnish were "going faster than ever".
Kenny was a surprise selection ahead of Hoy for the individual sprint as the Scot would have been defending his Beijing crown.
Hoy said: "Jason's going to be up there and is our best chance of a gold medal in the sprint."
Philip Hindes, 19, has replaced the retired Jamie Staff in the men's sprint team and Hoy is predicting great things from the German-born teenager.
The 36-year-old Hoy said: "We see him potentially pulling out something quite special on the day.
"We'll celebrate any medal because that will be a significant achievement. The standard is very, very high but it's very, very close."
Bolton man Kenny, who won gold with Hoy in the team sprint in 2008, admitted he was surprised at his selection ahead of the Scot - as he initially feared he was in trouble with performance director Dave Brailsford and coach Shane Sutton.
He said: "I got called in for a meeting and they said you've been selected for the sprint and that was it. I thought I was in trouble to be honest with you, I usually am when I'm called in for a meeting with Shane and Dave, so it was quite nice I wasn't getting shouted at."
Pendleton, who is defending her Beijing individual sprint title as well as competing in the team sprint, revealed preparations were going very well for herself and Varnish.
She said: "We're both going faster than we've ever gone in our lives and you can't ask for more than that."
Meanwhile, Hoy will not make a decision about retirement until after the Games, with the 2014 Commonwealth Games in Glasgow earmarked as a perfect send-off.
He added: "All I know is I'm going to have a bit of a holiday afterwards and not touch the bike for a good month.
"I honestly don't know how I'll feel afterwards, whether I'm going to be desperate to get back into it or whether my body's going to wave the white flag, but there couldn't be a better way to finish my career than at the Commonwealth Games in Glasgow.
"I've never raced internationally in Scotland, so what a way to finish. But at the same time we have a strong Scottish team so to even get into the team is going to take commitment."