Brazil's exuberance likely to add sparkle to Olympic football
By Paul Fletcher
BBC Sport
Last updated on .From the section Olympics147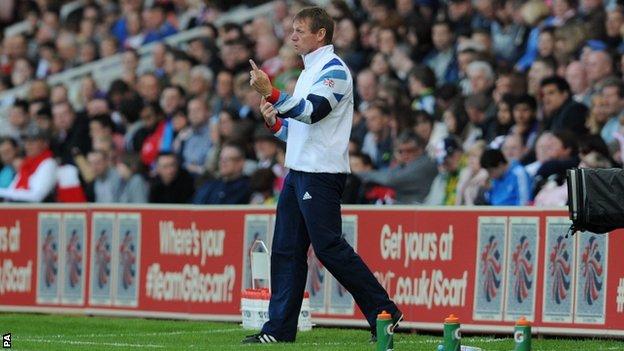 You can say what you like about the merits or otherwise of including football in the Olympics, but there was plenty on display at the Riverside Stadium in Middlesbrough on Friday to indicate that the tournament will add value and entertainment to the Games.
The bad news from a Team GB perspective was that most of it was provided by a Brazil side that looked so in control they brought to mind a conjurer who had decided to save most of his party tricks for a more demanding occasion.
For the Brazilians, the fact they have never won Olympic gold is an itch that needs scratching and they intend to do just that. They are also here to continue their preparations towards the World Cup they are hosting in 2014. Team GB might be on a voyage of discovery, like a child with a new and shiny toy, but for Brazil this is strictly business.
Oscar - reportedly on his way to Chelsea - pulled the strings in midfield as his team reached a 2-0 lead at the break, while the movement and familiarity between a side packed with talent was in stark contrast with Team GB's relative cast of strangers.
Neymar happily assumed the role of pantomime villain after spending an age on the floor holding his face after failing to win a penalty. The Santos forward was booed by the crowd, who had finally been raised from their slumber by his antics, and then gave him a slow hand-clap.
Prior to that the hum around the ground reminded me more of a Test match after a wicket had fallen than a contest between two teams with hopes of forthcoming Olympic glory.
It was almost as though once the whistle signalled kick-off nobody in the crowd quite knew how to get behind Team GB. They cheered skipper Ryan Giggs every time he got on the ball with the same passion that they booed GB's former Newcastle forward Craig Bellamy, but there was no singing at all.
There was plenty of Olympic apparel - official and otherwise - on display among the crowd of 24,721 inside the Riverside. I was particularly taken by a father and his two sons in head-to-toe GB gear. It was just about the first thing I saw when I arrived in the afternoon, although the union jack reindeer ears I spotted later in the day were also particularly fetching.
And I thought there was a real sense of anticipation as the women's team drew 0-0 with Sweden and the ground started to fill ahead of the men's fixture.
But when the action started in the men's match there were large passages of play played in front of a largely silent crowd. Perhaps it is because Team GB last participated in the men's Olympic football tournament in 1960 while the women are competing for the first time. There are relatively few people around to form a link with the past; the history is too distant.
A new chapter is being written and it is being done from a standing start.
Players from both sides have talked in glowing terms about how inclusive and interesting it is to be part of Team GB but somebody somewhere could do with coming up with a few Team GB chants - and fast - although everyone is on a learning curve at the moment.
Some of the players in the women's team admitted it sounded strange listening to skipper Casey Stoney shouting 'Come on Team GB' as the team made its way out of the tunnel for their warm-up match.
Coach Hope Powell thought her side looked nervous. They will have to come to terms with a much more daunting - but perhaps inspiring - occasion when they effectively kick off the Games for Team GB in their opening group match against New Zealand in Cardiff on Wednesday.
Men's coach Stuart Pearce was keen to try to focus on the positives, which at first glance did not seem like a particularly easy task. He was pleased with the distribution from the back and the performances of the likes of midfielder Joe Allen and goalkeeper Jack Butland, who came on at the break and made a series of sterling saves to enhance his burgeoning reputation.
But, unlike the bulk of Powell's team and, for that matter, their Brazilian opponents, Pearce's squad are not a well-drilled outfit. For the opening half hour they were particularly rusty at the back. Marking was poor for Sandro's opening goal and central defensive duo Micah Richards and James Tomkins were too often on the wrong wavelength.
While Brazil's fluid attacking unit of Neymar, Leandro Damiao, Oscar and Hulk interchanged positions with ease, Team GB stuttered badly in the final third, a point that Pearce admitted he is hoping to address before their opener against Senegal on Thursday.
With Daniel Sturridge recovering from meningitis and Marvin Sordell inexperienced at this level, Craig Bellamy had a brief spell up front and almost scored in the second half.
But it is hard to see where Pearce's team will find the goal that would negate any defensive weakness.
The good news is that if Team GB go on to play a side as good as Brazil again it will probably be fair to say their Olympic campaign has been a success, with a meeting against either Spain or Brazil impossible before the semi-final stage.
As Pearce himself said, if a team defeats Brazil in the forthcoming tournament they will probably be collecting a gold medal.
Bellamy was slightly blunter but no less accurate in his assessment when he remarked: "Thank God they're not in our group."
That said, a very dangerous Uruguay side lie in wait at the end of the group stage, while Thursday's match against Senegal could be a very tricky opening fixture.
And with just five training sessions left before then, there is plenty for Pearce to do if his players are going to produce the sort of performance that might give the fans something to sing about.