British Fencing chief executive to step down after London 2012
By Ollie Williams
BBC Olympic sports reporter
Last updated on .From the section Olympics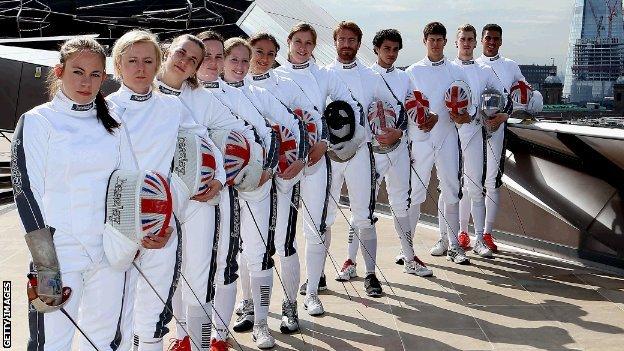 British Fencing boss Piers Martin is to leave his post after London 2012.
Martin, who joined the sport as chief executive ahead of the Beijing Games, will be replaced by Peter King, the former leader of British Cycling.
The GB fencing team has endured a troubled build-up to London 2012, including a succession of selection appeals and other internal disputes.
"My job was always to be here for four-to-five years to focus on essential but uncomfortable changes," said Martin.
"We have achieved this and attracted increased funding and sponsorship, setting up the sport for success in the future in a very short space of time. There is nobody better than Peter King to help us through the next transition phase."
Those changes, including the appointment of performance director Alex Newton in 2010, have not proved universally popular. However, British Fencing took pains to insist that Martin's departure had been planned and was not a response to concerns over the sport's management ahead of London 2012.
"Piers has made a key contribution to British Fencing, in a very testing period of substantial change," said British Fencing chair David Teasdale.
A number of selection appeals for this summer's Olympics were referred to independent arbitrator Sport Resolutions Ltd. Though all were ultimately thrown out, several of the verdicts pointed to irregularities and weaknesses in British Fencing's selection policy.
Excerpts included "an acknowledged failure" by British Fencing to follow areas of its own policy, and "certain features of the selection process which would have been likely to leave [fencers involved] with a clear feeling of dissatisfaction at the way it had been conducted overall".
One member of the British team subsequently went as far as accusing the governing body of "lying" about its selection procedure when they were not picked.
Recently, former performance director Graham Watts wrote that he was "no supporter of some of the decisions that have been made". He has called for an internal enquiry following the Games.
King will take the chief executive's post vacated by Martin on an interim basis until a permanent successor can be appointed, a role he fulfilled on a similar basis with modern pentathlon in 2010.
Speaking to BBC Sport last month, Liz Nicholl - the chief of funding body UK Sport - said governing bodies would come under renewed scrutiny in the aftermath of London 2012.
"Governance is the next step up for the British sporting system," she said at the time. "Great leadership supports great performance. We will focus a lot more in terms of setting out what we require of sports.
"We will then hope that sports meet those requirements, and use the lever of funding to work with each and every sport to ensure they have an action plan for advances in governance."
Asked if that meant withholding cash in extreme circumstances, Nicholl responded: "There will be conditions, things they have to achieve by a certain point."