London 2012: Dai Greene set for 2012 gold - Jamie Baulch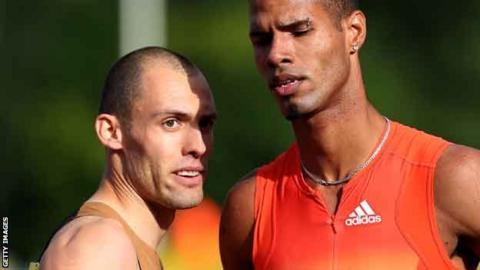 Dai Greene is destined for gold at the 2012 Olympics, according to his agent, the former Welsh Olympian Jamie Baulch.
Greene has yet to beat major Puerto Rican rival Javier Culson this year.
But Baulch says 2011 world champion and fellow Welshman Greene, 26, is in "the best position he could be in".
"If I was going into a championship and the world champion was breathing down my neck and getting better each race, I'd be a little bit nervous," said 1996 Games 4x400m silver medallist Baulch.
Greene beat Culson at the World Championships in Daegu, South Korea in September 2011.
But Swansea Harrier Greene underwent surgery on a knee injury during the winter that followed and has been in Culson's shadow this year.
The 27-year-old Culson has run five of the top seven times this year, Greene taking the other two slots.
Culson's personal best came in 2010 when he ran 47.72, while Greene's best came in Paris in July with a time of 47.84.
The Puerto Rican's best time this year was 47.78, a time he recorded in beating Greene in Paris and in their next meeting a week later at Crystal Palace.
However, Baulch believes Greene will win gold and, on BBC Wales' Chris Corcoran show, also predicted Kris Akabussi's 400m hurdles British record of 47.82 would fall.
"Dai Greene to win in a new personal best 47.65 in a new British record," said Baulch, who believes Greene's physical and mental strength will provide an edge during the three-round Olympic competition in London.
Greene and Welsh rival Rhys Williams will be among the competitors in the heats on Friday, 3 August.
The following day the semi-finals take place with the final on Monday, 6 August.
Baulch added: "It's all going good. I think what Dai's got above Culson - he [Greene] is current world champion, he's very strong in the rounds. Culson's a good one-off man.
"It's going to be tough. Dai's not... just going to turn up and win it - he's got to run the race of his life to do that.
"But exciting times... he's very strong, Dai Greene. As you can see over the last couple of months, he's getting better and better and better.
"With Culson... he's just slightly getting better each race, whereas Dai's making big leaps in chunks.
"So hopefully, fingers crossed, he will do it for Great Britain... at the start of the season Culson was beating Dai by about 10 metres.
"In his race in Paris it was literally on the dip on the line; London he [Culson] was a little bit more ahead, but not much.
"So if I was Culson I'd be like 'hang on, this guy is current world champion, he is getting a lot better, he did run a personal best the other day, why not [why can't Greene beat me]'?"