London 2012: China's swimmers stand on verge of new era

By Ollie Williams
BBC Olympic sports reporter
Last updated on .From the section Olympics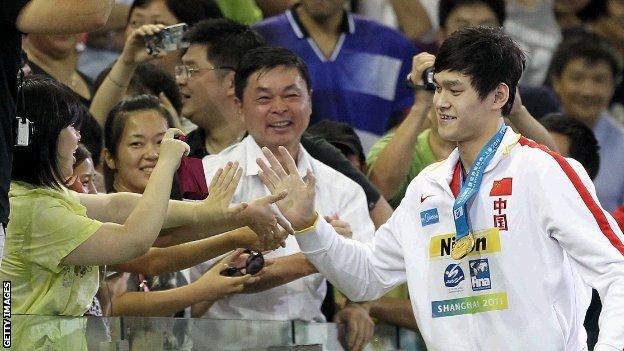 With a smaller team and less cash, China's Olympic team has to diversify at London 2012.
A 'small' team is still almost 400 athletes, to give this perspective (though down from more than 600 in Beijing four years ago), and 'less cash' is still a substantial sum of money.
But if China is to reproduce anything like its 51-gold-medal tally of Beijing, success in London must come outside its traditional powerbases.
That means leaving behind badminton, diving, shooting, table tennis, weightlifting and the like, where Olympic titles can already be guaranteed, and striking out for new territory. Step forward swimmer Sun Yang.
Sun, 20, is the world champion over the men's 1500m freestyle distance and world silver medallist over 400m. He is one of only two male swimmers to break a world record in an Olympic-sized pool since 2010, when world governing body Fina outlawed so-called 'ultra-fast' 100% polyurethane swimsuits. The other is Ryan Lochte.
Sun, then, swims in elite circles. At the Olympics, though, Chinese swimming traditionally has not.
At Beijing 2008, on the back of huge investment and with a team of 49, China finished seventh in the swimming medal table.
Their one gold medal came in the women's 200m butterfly. On the men's side, Zhang Lin won silver in the 400m freestyle - the best-ever finish by a Chinese man at an Olympic Games - but that was it.
This year, Sun Yang hopes to change that. Zhang has not made the team; Sun has inherited his mantle and leads the world this year over the 400m and 1500m. In his other event, the 200m free, he is fifth-fastest. He is a relative unknown outside his sport, but undoubtedly a name to watch at London 2012 as a gauge for Chinese progress.
Since arriving at his team's training camp, in Bath, Sun has been tight-lipped - refusing to speak to reporters who turned up last week. But before leaving China, he said: "I am feeling very good and very relaxed. I don't think there is any pressure on me.
"I have no burden on my shoulders at all. I will be more than happy if I can get one gold because it means I have made a big breakthrough in my swimming career and for men's swimming in China. I will keep my composure."
China certainly believes Sun can go far at London 2012, fast-tracking Communist Party membership for him in the build-up to the Games, according to the Reuters news agency.
But he is not alone. China's female swimmers did the bulk of the work in Beijing four years ago and, between them, contributed three gold medals to Sun Yang's two at last year's World Championships (again on home soil, in Shanghai).
Ye Shiwen won the women's 200m medley world title at the age of 15, coming back to defeat defending champion Ariana Kukors, an American seven years her senior.
Alongside the teenage star at London 2012 are butterfly specialists Liu Zige and Jiao Liuyang. Liu was China's lone Beijing 2008 gold medallist in the pool, leading home compatriot Jiao for a 200m fly one-two, while Jiao won gold over the same distance at the 2011 Worlds.
Liu's form has dipped a little but Jiao is second-fastest in the world this year. Less than two seconds separate the top six in the rankings, including Britons Ellen Gandy and Jemma Lowe in fourth and fifith respectively.
Jiao told the BBC's Chinese Service: "I compete against myself, I'm my own opponent. The critical thing is in the detail, the top eight swimmers are more or less on the same level.
"It is the details that make the difference between winning and losing."
Liu Haitao, her coach, told us the 20-year-old has "matured" since winning silver four years ago. "She has the ability, the mind-set and the advantage to cope with big events like this," he said.
"And if [the team] can achieve a breakthrough at the London Olympics, we can only improve further."
A smaller Olympic team for London 2012, perhaps. But China is bringing more swimmers to London than it took to its home Games. Success for them here could cement a new era in the sport.