London 2012: Colin Oates relieved to be back to fitness for Games
Last updated on .From the section Olympics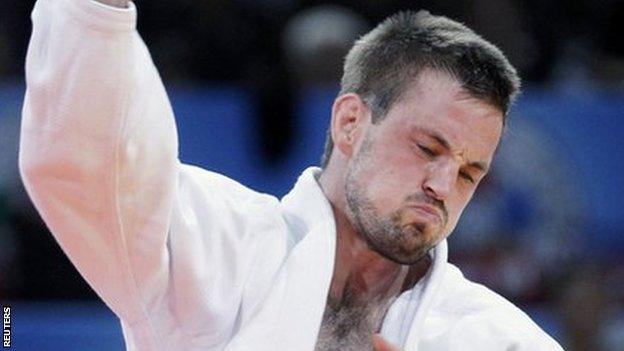 Norfolk judoka Colin Oates has admitted his relief at being back to full fitness in time for London 2012.
The 29-year-old suffered a shoulder injury earlier this year but won a bronze medal at last month's European Cup in the -66kg class.
"When I first went for the scan and was told about it being fractured, it was a big shock at the time," he said.
"But having competed and trained hard since then, it's nice to know it's going to be secure when I fight."
No British man has taken home an Olympic judo medal since Ray Stevens won silver in Barcelona 20 years ago.
And Oates - although not lacking in self-belief - is hoping the draw will be kind to him ahead of his opening match next Sunday.
"The draw is going to be a big moment. I'd like to avoid a seed early on," he told BBC Radio Norfolk.
"It would be nice to get a bit of fight time under my belt, and hopefully a victory, before I fight a seed."
Oates believes he has fought about 10 of his 31 potential rivals in the past and enjoyed victories against several of them.
He added: "There's a bunch there I haven't fought that I'd be confident going into (matches against), a few guys that are not as recognised on the world stage, but there are two or three I'd really like to avoid early on.
"After that, the rest of the 27, 28, I'd be quite happy to draw."
Oates expects the crowd at the ExCel Arena to be an "X-factor" in his favour.
"It can have a massive effect," said Oates. "When we had a world champion in Birmingham in 1999, Graham Randall, on that day I believe he beat three or four people he'd never beaten before - and I don't believe he beat them again after that day."
"That goes to show what can happen when it's a home crowd, and it's going to be a bigger home crowd than it was in Birmingham that day, so it can be a really big incentive for us as well."