London 2012: GB athletics gold medal hopes - Steve Cram

By Steve Cram
BBC athletics commentator
Last updated on .From the section Olympics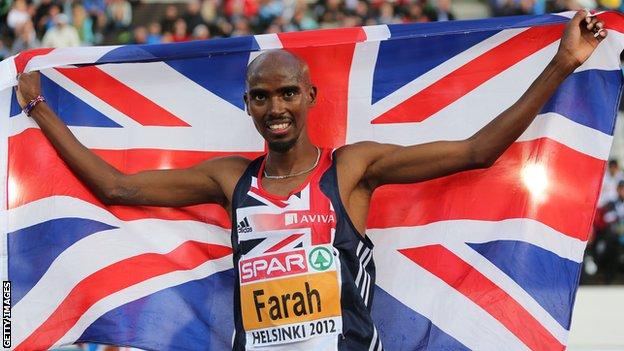 With days to go until the Olympic athletics competition begins on Friday, 3 August, I'm feeling positive.
Usually, Great Britain go into an Olympic Games wondering where our athletics gold medal is going to come from.
This time around, I think we have three outstanding candidates in Jessica Ennis, Mo Farah and Dai Greene.
Jess, who broke the British heptathlon record in May, is always improving. She had some weaknesses to work on following her World Championships performance last year, particularly the javelin and long jump.
But in her strong events she has been able to gain an advantage: her hurdling and sprinting have put her in fantastic shape and that makes her weaker events less of an issue. I think the javelin and long jump are key for Jess - she cannot afford for both of those to be weak. She is on home soil and is a great competitor, so all those things stand in her favour.
Both Dai and Puerto Rican rival Javier Culson have shown themselves to be the best in the world over 400m this year, but I would not write off American Angelo Taylor. He's somebody to watch out for.
Dai has demonstrated that when it comes to the big competitions he produces his best. I think he knows deep down that he will have to run a personal best and/or a British record (he was just shy of it at the Paris Diamond League event) to beat Culson.
He ran well in Paris but the Olympics offers a different dynamic because you have the heats to deal with, which is different to running a one-off race in the Diamond League. But I actually think that will work in Dai's favour.
Mo has always been a good runner, but he became a great runner when he decided finishing in the top 10 in the world was not good enough and he wanted to be in the top three in the world and win medals.
That was brought about by him changing his routine, switching coach and moving to the United States to live and train last year. It's been bearing fruit. He's on the crest of a wave but it's not going to be easy. Of the three Britons with gold-medal potential, he's got the toughest task as there are so many people on the day capable of doing well. In both the 10,000m and 5,000m, take your pick.
For Mo, it will probably come down to the last 600m of both races. The only negative to Mo's new-found medal-winning status is that his competitors now know what they are contending with.
A couple of years ago the African athletes had only watched him on TV. Now, they've raced with him and they know what he's going to do. That puts pressure on him and gives them a little bit of an advantage.
But on the other hand, Mo's rivals are going to need to find a way to negate his tactics and that is what is going to be interesting - especially in the 10,000m.
I think that distance is Mo's best chance of gold - partly because it comes first in the schedule, and partly because there will be fewer athletes with a chance of winning compared to the 5,000m.
It doesn't mean Jess, Dai and Mo are all going to win, but hopefully at least a couple of them will convert. Phillips Idowu is still a contender but, even by his own admission, he would have liked to have competed more and there is a big question over his fitness.
Those three are backed up by about half-a-dozen decent medal chances, which we don't usually say before a Games. We often make a case for it because we're British and want to be positive, but this time we're got a genuine bunch of other medal contenders and some of them are likely to convert.
They include national 400m hurdles champion Perri Shakes-Drayton, high jumper Robbie Grabarz, who is third in the world this year, pole vaulter Holly Bleasdale and Steve Lewis, who has just broken the British pole vault record with 5.82m.
Perri was touted as a potential Olympic medal contender as early as last year, but gave us cause for concern with her performances this season. Then, at the London Diamond League earlier this month, where she smashed her best time with a 53.78 second run, she put herself right back in the frame.
Meanwhile, Robbie was again holding his own against US world champion high jumper Jesse Williams at the Diamond League meet in Monaco. The Olympic high jump competition will be tough but Robbie is competing well on the big stage.
So I still think head coach Charles van Commenee's eight-medal target is a realistic one.
One area of concern, as has been well documented, is our sprinting. It's been a disappointment. And we lost the women's relay team where it could have been possible to sneak a medal. It looks like our best chance in the relays will come in both the 4x400m races.