London 2012: Team GB v Senegal - Patrick Vieira's academy pride

By Ian Dennis
BBC Radio 5 live senior football reporter
Last updated on .From the section Olympics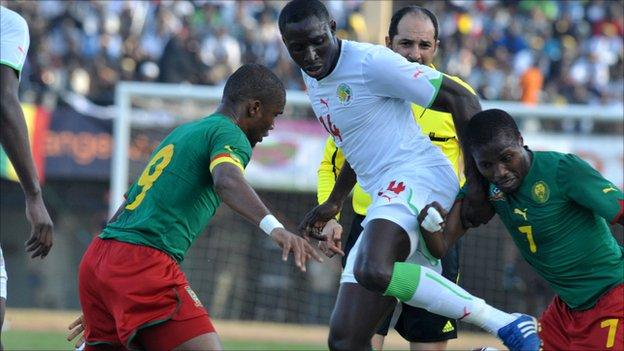 In 2003, I visited Senegal with Patrick Vieira who was returning to the country of his birth for the first time in almost 20 years.
It was there and then that he laid the foundations for the Diambars football academy which has flourished and, nine years on, has produced several Olympic footballers as Senegal prepare to make their debut in the world's oldest international football tournament.
Vieira, who won the World Cup with France and the Premier League with Arsenal, will be bursting with pride as he takes his seat at Old Trafford on Thursday, reflecting on a remarkable rise for some of Senegal's young stars as they prepare to face Team GB.
The Diambars centre, in the coastal town of Saly which is a two-hour drive from the capital, Dakar, produced eight players to help the West African nation qualify for the Olympics for the time.
Vieira admits that it is a dream come true, saying: "It is a fantastic achievement. Twelve years ago it was just an idea to try to help the country to develop using football to help promote their education.
"Twelve years later, we have eight of our boys helping Senegal reach the Olympic Games. The experience will be unbelievable and the first game at Old Trafford is fantastic."
Diambars was the brainchild of former French international goalkeeper Bernard Lama and Jimmy Adjovi-Boco, who once had a spell with Hibernian. They wanted to give something back and the project, along with the help of Saer Seck, has exceeded expectations.
I remember vividly the day Vieira helped to lay the first stone in the middle of a deserted, barren sandy land with machinery cultivating the ground in the distance.
Coincidentally, it was the same year London registered its first bid for the 2012 Olympic Games.
The former midfielder admits he would not have believed me had I said that nine years from that day, eight players would play a part in Senegal reaching the Olympics.
"Of course not. You were never going to believe that because you go with an idea to try and help and try to achieve something good, but you never know how far you can go and how good it will be," he said.
"You just have to believe in what you are doing and believe in the philosophy that you want to put into the academy and, to be honest with you, Jimmy Boco, Bernard Lama and Saer Seck have been working really hard."
Not all eight have made the final squad of 18, but Senegal will still have goalkeeper Ousmane Mane, defenders Saliou Ciss, Serigne Kara Mbodji, Papa Souare and midfielder Idrissa Gueye who have all come through Diambars.
Vieira says the players have got what they deserve, adding: "They came to the academy and have been working really hard. They have been listening really well and so all the credit is to them because it's not easy.
"Of course, we feel really proud because 10 years ago you could never have imagined that our boys would be in the Olympics playing at Old Trafford. Can you just believe how it will be fantastic for them? The experience, the excitement, it's going to be unbelievable for them."
As it will be for Vieira who even before the opening ceremony on Friday has helped an African dream come true.