GB Olympic basketball team in tough task - John Amaechi
By Alistair Magowan
BBC Sport
Last updated on .From the section Olympics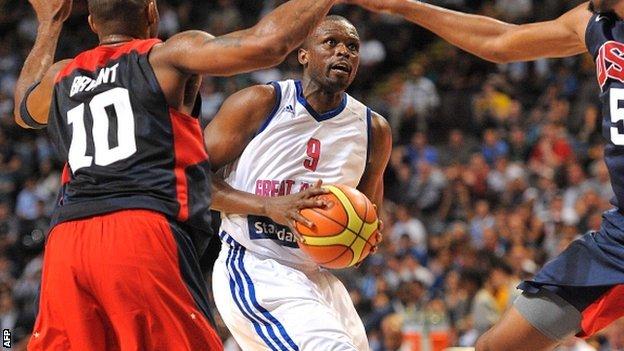 Former NBA and England basketballer John Amaechi says Great Britain face a battle to get out of a tough group at the Olympic Games.
Britain take on Russia in their Group B opener on Sunday before facing Brazil, Spain, Australia and China.
"It's going to be very difficult," he said. "Then again, there is supposed to be some magic about playing at home."
Amaechi believes GB basketball should have done more to blood British youngsters ahead of London 2012.
He says the Olympics have been a missed opportunity in that respect, rather than Britain attempting to recruit the likes of Charlotte Bobcats star Ben Gordon.
"At no point should we have been trying to assemble an all-star team of 'plastic Brits': we should have been looking at the Games as an opportunity to fast-track some of the amazing talent that is under-developed because of the lack of resources or lack of quality coaching," said Amaechi.
"It might sound callous but I don't care about this Games: what I care about is after the Games that GB has a team that can play in future Games. It's great to be in these Games but it will be the death knell of British basketball if after these Games they never qualify again."
Team GB, 43rd in the world rankings, have struggled recently, losing their last three warm-up games against Belgium,Tunisia and the United States.
But they face 11th-ranked Russia - to whom they lost twice in June - at the Basketball Arena in the Olympic Park, with guard Mike Lenzly and forward Dan Clark cleared to play after fitness worries.
Given host status, Britain did not have to qualify for the Olympics and although they pushed the world's second best team - Spain - earlier in July, coach Chris Finch's team will rely heavily on Chicago Bulls star Luol Deng and Joel Freeland, who has recently signed for the Portland Trailblazers.
Britain have only played in the Olympics once before, in 1948, and recorded their first European Championship wins at EuroBasket 2011.
Amaechi, who played for NBA teams Cleveland Cavaliers, Orlando Magic and Utah Jazz, represented England and won a Commonwealth bronze medal.
He said: "People will look from the outside at the likes of Russia and Spain and not understand that they are superpowers of basketball but they are really good. The other teams are just really tight.
"Deng and Freeland are very good players but we are a team with one guy who is a superstar and a few guys who are very talented. Other teams have three superstars and eight people who are very talented. Over the course of tournament, that is really tough to overcome.
"I really hope they have a remarkable couple of games where every cylinder is firing and they do the job perfectly and in that case they may pull off some upsets like they nearly did against Spain recently. Unfortunately, the Spain game may serve to make other teams more vigilant."