Oxford University director wants athletics link
Last updated on .From the section Olympics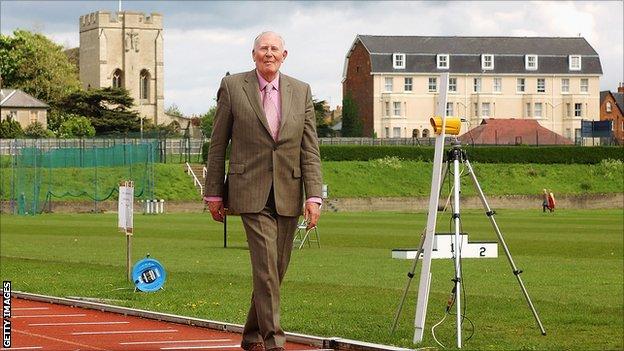 Oxford could host more elite athletes after the Olympics, according to Oxford University's director of sport.
With London due to host the World Athletics Championships in 2017 John Roycroft believes that the venue can continue to offer its facilities.
"We have a fantastic running track, steeped in history," Roycroft told BBC Radio Oxford.
"I know when the Chilean athletes met Sir Roger Bannister it meant a huge amount to them to train on an iconic venue.
"It's perfectly suited for small, intimate groups who want the Oxford experience and the facilities are on-site. We wouldn't want to overstretch ourselves, we'd want maybe 15 to 20 athletes at the most so we could make sure we give them a good experience, but everyone is welcome.
"The Chileans would certainly come back here and they'd be very welcome and hopefully with a bigger squad."
And the head of the Chilean Athletics Foundation, Alvaro Gonzalez, has told BBC Radio Oxford that he wants greater sporting links between Chile and Oxford.
"For Chile it's a special place because lots of Chileans have come here to do post-graduate studies," said Gonzakez.
"We took the opportunity to establish a link through sport and now through education, because we're thinking beyond the Games.
"So we can retain this good line of research and an exchange of athletes, academics in sports, and in some other fields between Chile and the UK.
"The Olympics is a special time for everyone and having Oxford and the Olympics at the same time is a treat that not too many people can have."
Roycroft has said that discussions have already begun about potential academic studies and coaching exchanges between Oxford and Chile.
"Alvaro is speaking to some academics about the study of altitude on the oxygen levels in bloodstreams and Chile has some of the best facilities and some of the best resources in the world for researching some of those things.
"From a sporting point of view, after the Games we'll speak to Alvaro and other representatives about possible coaching exchanges and we might look to get some of our volunteer coaches to go over there and vice versa to explore different things.
"Ideally we'd like to marry the technical expertise that some British coaches in this area have with that mentoring ability and support structure that happens in places like Chile and I'm very excited by that."