London 2012: Selsouli to miss Games after failed drugs test
Last updated on .From the section Olympics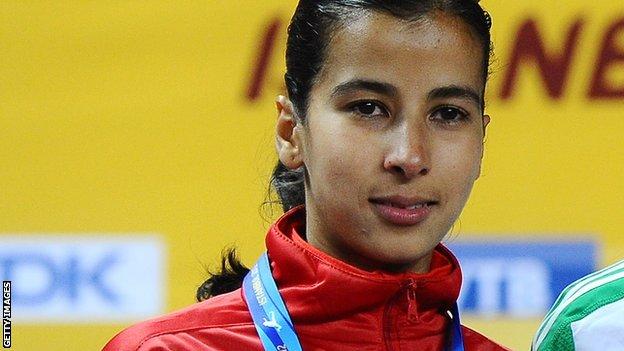 Moroccan 1500m runner Mariem Alaoui Selsouli has failed a drugs test and will miss the London Olympics.
Selsouli, who won silver at this year's World Indoor Championships, tested positive for a banned diuretic in a sample taken in Paris on 6 July.
Meanwhile, the World Anti Doping Agency (Wada) has revealed a new test for Human Growth Hormone.
And the International Association of Athletics Federations (IAAF) revealed nine other athletes have failed tests.
Selsouli, 28, has been banned for doping once before and now faces a lifetime ban.
"The prohibited substance furosemide was found," read an IAAF statement.
"Alaoui Selsouli has waived her right to the B analysis, and as a result has now been provisionally suspended from all competition in athletics."
The IAAF also announced it had stepped up its "biological passport" testing, which involves measuring and monitoring an athlete's blood variables over time to indicate the use of prohibited substances or prohibited methods, resulting in six more athletes failing tests.
A further three competitors, including Ukrainian Nataliya Tobias, who won bronze in the women's 1500m in Beijing four years ago, were caught as a result of the re-testing of samples from last year's World Championships in South Korea.
A total of 71,649 tests have been carried out worldwide by Wada in the six months leading up to 19 July, with 107 athletes sanctioned.
Organisers of London 2012 say more than 6,000 tests will be carried out during the games, including the new "bio-marker" test which will monitor the levels of HGH and be able to determine what occurs naturally in the body and what is added synthetically.
"It's a very significant step and it's a very helpful one," said Wada director general David Howman.
"Every step is significant if it ends up catching someone who has been cheating with impunity."
Wada president John Fahey added: "We're helping to provide an Olympic games that is as free from doping as is possible.
"These efforts in the lead-up to the Games are bearing fruit. They [doping offenders] should know that avoiding detection is the smallest [possibility] it has ever been."