London 2012: Pentathlete Mhairi Spence spurred on by Beijing miss

By Rhona McLeod
BBC Scotland
Last updated on .From the section Olympics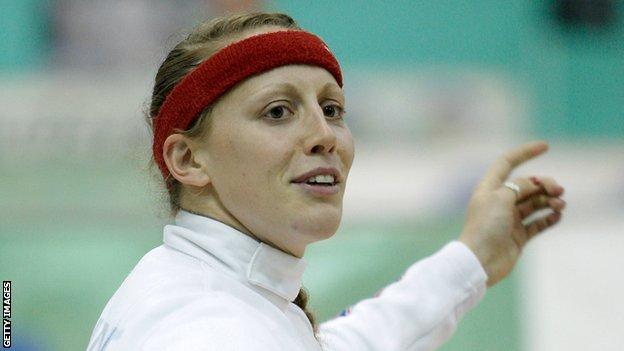 Scottish modern pentathlete Mhairi Spence is targeting an Olympic medal to make up for the disappointment of missing the Beijing Games four years ago.
Spence met the qualifying standard in 2008, but missed out on selection, with Heather Fell and Katy Livingston chosen to represent Team GB.
"It made me really doubt if I was in the right place, doing the right thing," Spence said of her omission from the 2008 Olympic squad.
"For it all to come together at the last minute right before a home Olympic Games is really special - I'm definitely aiming to be in the medal zone."
An individual gold at this year's World Championships is Spence's career highlight to date, and it was that performance which sealed her spot in London.
"It's a tough day, holding yourself together and staying focused, and crossing the line it felt like a weight had been lifted from my shoulders," she said.
"I had qualified for the Games and just won the World Championships. I didn't really know what was going on and I was really full of emotion.
"I've had a tough journey through the years of being a pentathlete.
"I had quite a successful junior career, and then qualified as a reserve athlete for Beijing which was quite a tough thing to go through. About 18 months ago I really threw 110% of myself into the sport and sacrificed a lot."
The modern pentathlon is contested across five events: pistol shooting, fencing, 200m freestyle swimming, show jumping, and a 3km cross-country run. Training in five disciplines occasionally takes its toll.
"There are obviously days when I think: 'Why am I here? Why am I doing this to myself?'" Spence said.
"Running's not my strong point, but I don't dislike running training. There are parts of it I don't like. I find swimming tough, swimming training is tough. I take my hat off to full-time swimmers.
"It doesn't get any easier, and I think mentally that's one of the toughest ones for me to keep going."
Spence, 26, feels taking the gold at the World Championships has given her the belief that she can compete for Olympic medals, and she wants to do her country proud.
"Winning the World Championships made me more comfortable with the idea that maybe I am good enough. I've got a stubborn Scottish streak in me, and I think that has helped me get to where I've got to.
"Being from the North of Scotland (Inverness) I like to stand up for Scotland as well and I'll always be like that. I think it is bred into us a little bit."
You can watch Mhairi Spence's interview, along with interviews with some of Scotland's other Team GB athletes, on Sport Nation: Scottish Olympic Special, Thursday 26th July, 1900, BBC2 Scotland.
You can follow Sport Nation on Twitter: @BBCSportNation