Olympic Village in London: What's it like to stay there?

By Piers Newbery
BBC Sport
Last updated on .From the section Olympics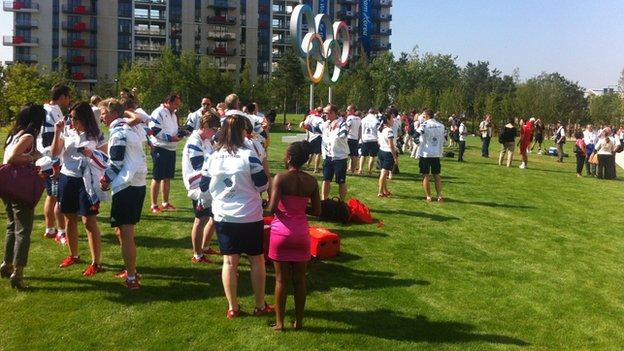 If the scorching temperatures we've seen over the past few days in London become a regular occurrence rather than a fleeting reminder of summer, the best legacy plan for the Olympic Village might be as holiday apartments.
It certainly feels more like the Costa Brava than east London on my visit there, as athletes shuffle around the 36-hectare site in search of shade.
"I need to get inside," pants an athletically enormous American as he makes his way down Celebration Avenue. "It... is… baking hot!"
There are plenty of options. Like a cross between the Truman Show and Center Parcs, the village has shops, restaurants, fitness and medical centres, a bank and, for those happy to stay out in the sun, buskers to serenade them in the green spaces.
Over in the Team GB block, the locals have taken shelter.
The biggest moment of their sporting lives might be a matter of a few days away, but you wouldn't know it - it's all flip flops and laptops as Britain's finest hockey players lounge in their garden and fill the hours between practising, eating and sleeping.
"The 9.30pm bedtime means it doesn't feel like a lads' holiday," insists Games debutant Dan Fox, in case it all looks a bit too chilled.
Fox is one of nine players spread across three floors in what is officially called a Townhouse, with shared bedrooms and all the accompanying accusations of "snoring" and "stinking" being thrown around.
"Don't interrupt Dan, he's kind of a big deal," and "Don't look in the top drawer!" shout the noisy neighbours over the fence, the likes of striker Ashley Jackson and Richard Mantell enjoying their team-mate enduring a BBC Sport inspection of his suspiciously tidy accommodation.
GB basketball player Joel Freeland ambles past the front gate, doubtless happy in the knowledge that his 6ft 10in frame will be accommodated by one of the extendable versions of the 16,000 beds.
It's early days in the village as teams continue to arrive throughout each day, and while everyone is on their best behaviour for now there is a definite feeling of waiting for the party to start, both in and out of competition.
No alcohol is sold anywhere in the village, which softens the blow of learning that the bar closes at 11pm in the 24-hour recreation area.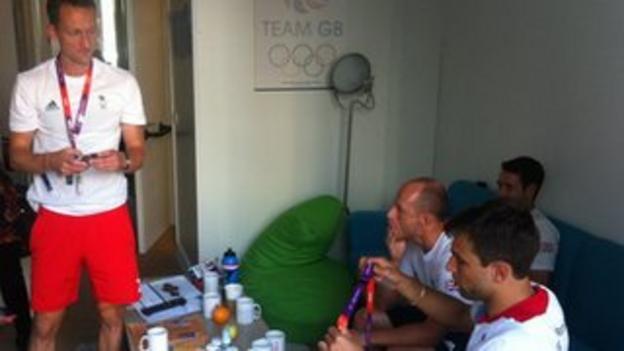 With Britain's favourite pastime understandably not an option for the world's finest athletes, the pool tables apparently get a lot of use - Portugal are dominating as we pass through, while several Togo team members play on the official London 2012 video game. Everyone wants to be Usain Bolt.
"They'd better have air conditioning in this joint," says a Canadian athlete on her arrival, another visitor in search of respite from the infernal British sun.
When at capacity there will be more than 16,000 athletes on site, which explains the need for a dining hall the size of an aircraft hanger. It is vast, seating up to 5,000 people at a time, with cuisine from around the world on offer.
"The food court is amazing," says Fox, more than once.
Sir Clive Woodward is in there, skirting all the grilled fish and heading for a leading retailer of burgers. "It's coffee, just coffee," he laughs when spotted.
In keeping with the general ambience, the Team GB director of sport is in relaxed mood. "I'm not nervous, just excited. Everyone's performing well and we just want to get off to a good start with a gold on Saturday."
Outside, life in this well-manicured alternate universe rolls on as Shadow Olympics Minister Tessa Jowell greets the team from Guam under the Olympic rings, along with the Olympic Village mayor - yes, it has a mayor - Charles Allen.
He explains his role is less about getting the bins emptied and more about welcoming the athletes and making sure they have a good stay. Asked what makes London's village different, he adds: "It will be green, it will be lush and, above all, it is ready."
Olympic Villages are not to everyone's taste, with some of the more high-profile stars often preferring to make their own arrangements, but others crave the opportunity to mix with other athletes.
Andy Murray has been a visible figure there in the days before the Games, despite the fact that he will be staying at his home to enjoy his well-practised routine of getting to and from Wimbledon.
Britain's hockey players have become well used to life in Stratford over the last year or so as they have played numerous practice matches at the Riverbank Arena, their Olympic venue, but up until now they have stayed at a nearby hotel.
"The food is better here but the rooms are like student digs," Fox cheerfully admits. "There's a lack of storage, it's a total mess and it's getting worse and worse. There are nine of us in the flat, so it's quite... fun."
And of course the great advantage of being in the Olympic Village is the chance to foster international relations, of one form or another, with Team GB surrounded by possible friends and foes on every side.
"I requested Sweden and Denmark but we've got Australia across the way, which is a bit of a disappointment," jokes Fox. "But it's brilliant, we're just having a really great time.
"And the food court is amazing."