London 2012: Goldie Sayers to compete despite elbow pain

By Sonja McLaughlan
BBC athletics reporter
Last updated on .From the section Olympics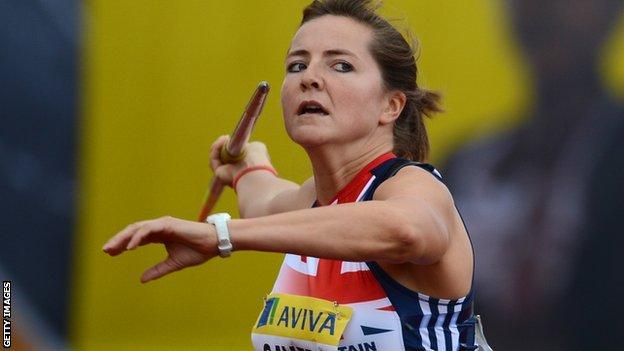 Britain's javelin number one Goldie Sayers says she will not "let pain get in the way of a once in a lifetime opportunity" of being at a home Games.
Sayers, 30, broke her own national record at the London Grand Prix on 14 July, but suffered a torn elbow ligament on her fourth throw.
"Whatever happens, I will be fine, and I will give everything over the next 10 days," she told BBC Radio 5 live.
Sayers has suffered a number of hip and knee injuries in the last two years.
She will be unable to have any pain-killing injections to help her compete as there are too many nerves in the surrounding area and there would be a risk of her losing feeling in her hand, making her unable to grip the javelin.
Sayers, who competed at both the 2004 and 2008 Olympics, is currently experimenting with a range of strappings to help ease the pain.
She said: "I have been amazed with how much it has healed over the last 10 days.
"I have gone from not being able to brush my hair on the Sunday, to going into the MRI scanner on Monday absolutely petrified that my Olympics was over, to now lifting weights.
"The only thing that hurts now is throwing a javelin, but it is just pain.
Sayers said she planned to talk to former British javelin thrower Steve Backley about how to cope with the injury while competing.
Backley won two Olympic silver medals and one bronze despite suffering from chronic knee problems.
He told BBC Radio 5 live: "When you talk about an injured elbow in javelin, it is so typical.
"The challenge for her [Sayers] is getting through qualification. If she can do that she has got a chance in the final."