Great Britain's Julie Page says togetherness will bring success
Last updated on .From the section Olympics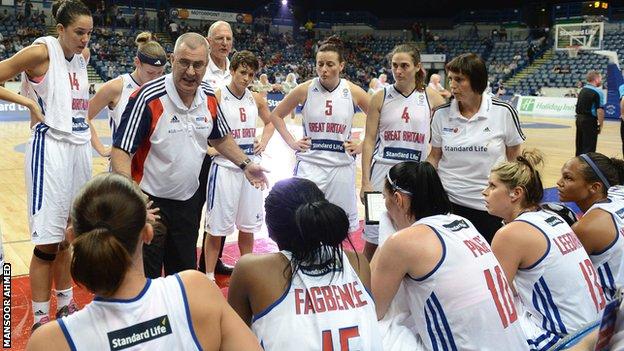 Great Britain player of the year Julie Page says her team must support each other to win matches at the Olympics.
GB open their campaign on Saturday against Beijing silver medallists Australia, a team who recently beat them in a tournament in Sheffield.
"We need all 12 people to pull out these wins," Page told BBC Sport.
"We don't have any superstars. To beat world-class teams we have to come together as a five on the court supported by seven on the bench."
Manchester-born Page, 29, has played professionally in Germany, France and Italy before spending last season at Torun in Poland.
She says the GB team, rescued from relegation to Division B of European competition in 2009 by the generosity of world governing body Fiba, has made significant strides in a long preparation period this summer.
"The first three weeks were really difficult because we had practice every day and by the end of it we were wanting to kill each other because we'd been fighting each other every day on the court," she said.
"Then we wanted to kill the coaches too because they were really tough on us.
"It was really challenging, but when we got into our series of games, things started coming together, which got us more into a positive frame of mind."
Although GB are not tipped to make the knock-out stages from a group that also includes Brazil, France, Canada and European champions Russia, Page warned against taking the hosts too lightly.
"Part of the British culture is that we're not scared of anything. We're going to get in there because we're fighters," she said.
"I don't think we'll ever go on the court and think 'oh gosh' - we're ready to fight anyone for a win."
She also hopes the team's European finals debut - at last year's Eurobasket in Poland - will have given the team great self-belief.
"Before that we hadn't played in a competition of that calibre. We didn't have the experience," she said.
"But after that - when we competed against Russia and only lost to them by three points - it showed us that we're a great team and we can hang with these guys."
Page said that under veteran Australian coach Tom Maher, the team has trained full-on for the Olympic tournament, as a recent black eye suffered by guard Natalie Stafford might suggest.
Stafford waved that off by posting a picture of the bruising on Facebook and Page would probably have done the same, rather than worry about picking up injuries with the Games approaching.
"If you think like that it's going to happen," she said flatly. "You've just got to go for it and not be afraid. Go at it or go home."