London 2012: Mark Cavendish eyes gold medal on The Mall

By Matt Slater
BBC sports news reporter
Last updated on .From the section Olympics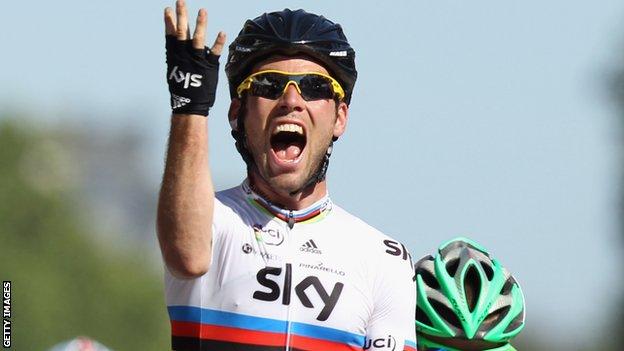 With three days of the Tour de France to go, Mark Cavendish was not the happiest of bicycling bunnies.
It had been a hard three weeks for the world champion and insult had been added to injury the day before when he found himself lying on the road again, two miles short of the race's final Pyrenean summit.
Having had his front wheel clipped at 40mph in the first week, this crash was caused by a fan's flag getting caught up in his handlebars. Whatever the cause, the result was the same: a badly bruised rider coasting over the finish line on a broken bike, with a face like most of the British summer.
So you can probably imagine his mood on the bus the following morning, when Team Sky's chief tactician Sean Yates said: "Right lads, the mountains are behind us. If a dozen riders go up the road looking for a stage win and they're no threat to Wiggo, let them. Let's keep our powder dry for the time trial."
Perfectly sound advice that, textbook even. Cavendish, however, was having none of it.
Having sacrificed any real hopes he had of defending the green jersey he won in Paris the year before for the greater good of Bradley Wiggins's tilt at immortality, Cavendish had had enough of fetching water bottles for the diesels in Team Sky's engine room.
A thoroughbred, he was also tired of hauling himself up mountain passes more suited to llamas, fed up of watching slower men steal stage wins he knew were his for the taking with just a modicum of additional help from his team, and angry he had only won one stage on Tour so far that year. But that was going to change and it was going to change today.
"Erm, Sean," Cavendish later said from the back of the bus. "Can we have a sprint today, please?"
My guess is that this was the gist of what the 27-year-old Manxman said, but there is no doubt whatsoever that his request was received with sympathy by the rest of the team and the debate was over as soon as Wiggins nodded his consent.
Because Cavendish is more than just very fast and utterly fearless, he has an ability to motivate a group to work for his benefit. His self-confidence is infectious, his CV commands respect and his will-to-win encourages aching limbs to give that little bit more to get him into position to do his thing.
And that is what happened in Brive-la-Gaillarde later that afternoon.
Team Sky's workhorses pushed hard to cut a breakaway group's huge early lead, Wiggins put in a monstrous shift to close the gap even further as the race reached its finale, and Edvald Boasson Hagen shepherded his man to within 500m of the finishing line.
But from there it was pure Cav, a joyous outpouring of speed that saw him slalom through the field as if they were stationary.
It was his 22nd stage win since his Tour de France debut in 2007 - a victory that put him at the time joint fourth in the all-time wins list alongside Lance Armstrong and the great French sprinter Andre Darrigade - but it was also an emphatic retort to all those who had noted the three wins apiece for rivals Andre Greipel and Peter Sagan and wondered if "Cav" had lost it.
Two days later, the man L'Equipe had just dubbed the Tour's greatest ever sprinter put that retort in 18pt font (big letters for the layman), bolded it up and underlined it for good measure.
Once again, his team-mates put in a huge effort to put him in the right place and once again he rewarded that effort with a lung-burning charge up the Champs-Elysees, leaving Sagan and Greipel to admire his celebrations. This was a fourth straight win on the world's most famous boulevard - nobody else has more than two.
So, just 72 hours after a relative low in his spectacular career, Cav was back. And he was back just in time for another race up a grand old avenue, this time London's The Mall, a ceremonial route fitting for cycling's sprint king.
Saturday's Olympic men's road race has been circled on the Cavendish calendar for some time now.
Ever since he infamously left the Beijing Olympics as the only member of the track team not to win a medal, there has been an air of unfinished business about Cavendish and the Games.
He and Wiggins, his misfiring Madison partner in 2008, might have patched things up, but I suspect the BBC's 2011 Sports Personality of the Year is still nursing something of a grudge against Baron Pierre de Coubertin, the founder of the modern Games. This is a good thing for British medal hopes. An angry Cavendish is a fast Cavendish.
Further causes for optimism come in the form of the four men who will be riding their guts out to deliver our superstar to the red carpet that is The Mall: in Chris Froome, David Millar, Ian Stannard and Wiggins, Cavendish has the best motorcade in the field.
There is also no chance of any confusion over Britain's tactics. As Millar said recently, setting Cavendish up for a sprint is "plan A, plan B and plan C", which is fine, as they were the plans at last year's World Championships, where those same four riders pointed "Cannonball Cav" at the finish line and let him do the rest.
But here's the thing. Our fab five were an awesome eight in Copenhagen and controlling a 250km race is much, much easier with seven support riders than four.
There were also a few other teams keen on having a bunch sprint that day - a quick glance at the list of favourites for Saturday's race, a list that is topped by an odds-on Cavendish, suggests there will not be so many willing to let the race arrive in central London en bloc.
And if that has not dampened your enthusiasm enough, let me point you to the history books. In the five Olympic races staged since professional riders were allowed in, none has been won by a pure sprinter.
The roll of honour - Samuel Sanchez, Paolo Bettini, Jan Ullrich, Pascal Richard and the late Fabio Casartelli - is a litany of strong, versatile riders able to get away and stay away. Cavendish would make that lot look silly in a flat sprint, if only they would let him, and that is the challenge he faces.
Everybody is expecting attacks to come on Surrey's Box Hill, a pimple by Tour standards, but a significant hurdle when tackled nine times in a row. But the truth is Cavendish and his four guardians will be attacked every pedal stroke of the way, again and again.
And there is a big difference between this race and almost every other race in the calendar: this is one you would not mind coming second or third in - at least you get a medal. That kind of carrot encourages impromptu teamwork in a break and makes GB's hopes of catching it that bit harder.
Have I done enough to drive Cavendish's price up a bit yet? No? Didn't think so. I can hardly blame you, the little man has been making a mockery of common sense for as long as he has been riding his bike.
And as Yates discovered on the team bus last week, there really is no resisting Cavendish when he has his heart set on something.