London 2012: London Olympic Games begin - in Cardiff

By Tom Fordyce
Chief sports writer, BBC Sport
Last updated on .From the section Olympics105
"How did the London Olympics of 2012 begin, grandpa?"
"In Cardiff, lad, with a toot on a whistle, and without a flame or cauldron in sight."
"Whatever, grandpa. What really happened?"
For all the talk of opening ceremonies, flag-bearers and celebrity cauldron-lighters, the start of the biggest sporting celebration ever staged in Britain was both reassuringly familiar and a touch surreal.
Fully 53 hours before artistic director Danny Boyle's much-anticipated spectacular in Stratford, an American referee named Kari Seitz walked to the centre circle of the Millennium Stadium, signalled to the 22 women from Great Britain and New Zealand's football teams and stepped away as GB number 14 Anita Asante swung back her right foot and touched the ball to Kelly Smith.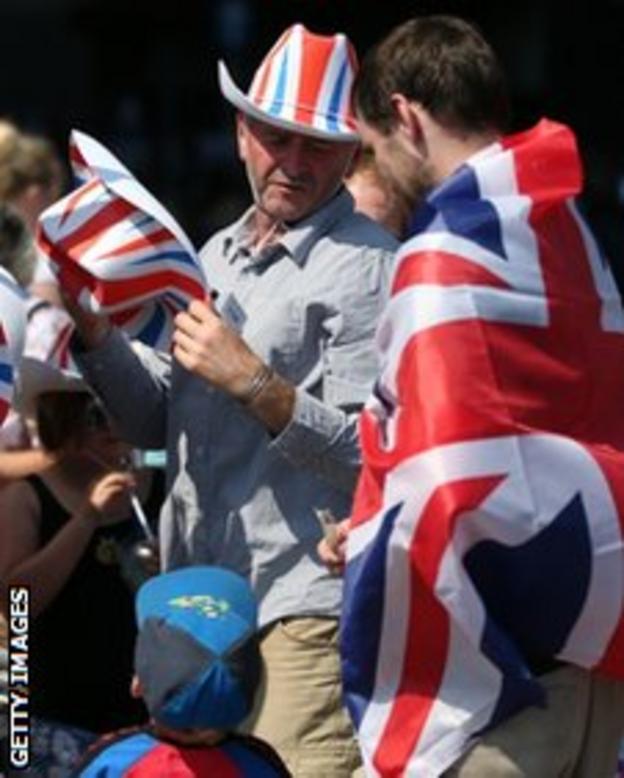 There were no fireworks, no gigantic klaxon sounding, no glorious oratory and no roller-skating nuns (wait and see). Quiet history was made, nonetheless: the Games of the XXX Olympiad were unofficially under way.
Few in the 24,549 crowd were entirely sure how to react. There was a good-sized cheer, a decent amount of smiling and a little bemusement. Was this how the Olympics were supposed to feel?
Smith, perhaps understandably overloaded on adrenalin, immediately booted Asante's kick-off straight into touch on the left wing. You rather hoped it wasn't an omen for Team GB over the next 19 nation-shaking days.
This is not the first time that the Olympics have started before they have begun. It is now the norm that the first round of football matches take place before the opening ceremony; there are too many games and too few potential rest-days for the entire competition to be squeezed into the usual two-and-a-bit weeks.
It also happens at most big athletics championships, usually to something like the men's shot put qualifying, which has previously given Britain's Carl Myerscough the unfortunate distinction of going out of the World Championships before they have actually been declared open.
No-one in Cardiff was complaining. On the trains in from Bristol, Swansea, Swindon and Newport, kids had bounced in their seats while parents tried to keep them quiet with Olympic-based quizzes. What was Usain Bolt's favourite food? Does Sir Chris Hoy own a dog? How many medals did Michael Phelps win in Beijing?
There were Union Flag face-paints and early incursions into carefully made picnics, excited texts and tweets to absent friends and double-checking of wallets and pockets holding precious tickets.
Around the Millennium Stadium the sense of Olympic fever was similarly unmistakeable, if restrained in a stereotypically British way.
Volunteers in the official purple T-shirts we will soon see as ubiquitous smiled and directed. Security staff dished out clear plastic bags, airport-style, and issued cheerful warnings of the checks ahead. Hawkers of unofficial merchandise did rapid business while keeping eyes and ears on the policemen strolling past in shirt-sleeves.
For those used to the Millennium mayhem of Six Nations matches or the giddy madness of pre-new Wembley cup finals and play-off deciders, it was Cardiff city centre as seldom seen before, more in tune with the atmosphere around a Test ground before the first day's play rather than the boozy beery sing-a-longs of rugby and football.
It was also extraordinarily warm and uncharacteristically cloudless up above. In the wettest summer in memory, the Olympics had somehow managed to arrive on the hottest, sunniest day of the year.
Security was tight but efficient. Bodies had to be patted down and bottles of water emptied onto the baking pavements, but the queues that did form moved along at a lick and ended with smiles and small talk from the staff on duty.
Inside the stadium, only the second verse of the national anthem caused any alarm. Humming and mumbling filled the gaps; if a few west country accents occasionally talked inadvertently of the England team, the Welsh natives soon put them right.
We even had our first chants of pan-nation support: not cheers of "Bri-tain! Bri-tain!" but a brand-pleasing, pedant-riling "TEAM GB!" (clap clap clap) "TEAM GB!" (clap clap clap).
Thankfully here the result was a rather happier one than Myerscough's experience in Paris's Stade de France back in 2003. Steph Houghton's fine second-half free-kick, curled past Kiwi goalkeeper Jenny Bindon, gave Britain a start to the Games that was as perfect as the sky above.
Houghton celebrated with fitting glee. The first goal-scorer of the London Olympics, the first ever for Great Britain's women's team in their debut Games, the first British headline-grabber in what the country hopes will be a long, long list.
There will be more high-profile sporting ding-dongs to come in these Olympics. There will be more thrilling clashes, spicier atmospheres, more unforgettable displays.
But it has begun, even by stealth. And those who saw it, if nothing else, will be able to say: 'I was there, and it was nothing like you might think.'