London 2012: Wales' Joe Allen listed as English by Team GB
Last updated on .From the section Olympics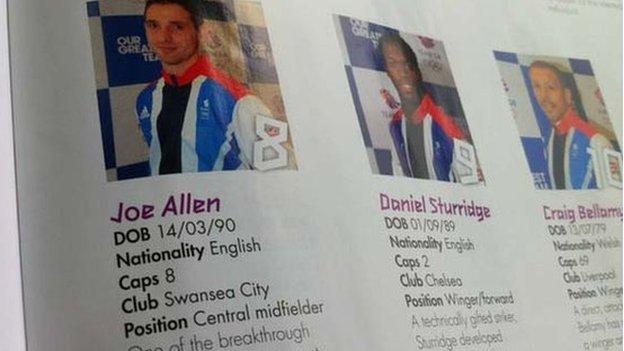 Olympic organisers have apologised for another embarrassing gaffe after describing Welsh midfielder Joe Allen as English in the Team GB programme.
Allen, 22, featured for Great Britain on Thursday in their opening match against Senegal at Old Trafford.
The mistake follows the humiliating episode at Hampden Park when the South Korea flag was shown next to North Korea's women footballers.
"We apologise for this mistake," said Games organisers Locog in a statement.
"New programmes are now being printed with the correction in time for Team GB's next match."
Allen, a fluent Welsh speaker from Pembrokeshire, is one of five Welshman selected in the men's football squad. But under the title 'Nationality' in the player profiles in the official programme for Thursday's match, the Swansea City midfielder is listed as English.
Compatriots Ryan Giggs, Craig Bellamy, Aaron Ramsey and Neil Taylor have all correctly been identified as Welsh in the official programme.
Allen, who started for GB in their Group A opener against Senegal in Manchester, whcih finished in a 1-1 draw.
"I'm sure that caused a bit of a storm today, I did hear a little whisper about that - we'll have to make sure they correct that for the next game!" Allen said.
The Football Association of Wales, who had urged Welsh players not to play at the Olympics, has been asked for a comment.
Before the first day of competing at London 2012 was over, organisers had already been forced to apologise after the flag mix-up when North Korea faced Colombia in Glasgow.
As the North Korean players were being introduced before the match, South Korean flags were mistakenly displayed in the video package.
The squad walked off and could only be persuaded to return when the teams were announced again with each player's face displayed next to the North Korean flag, delaying kick-off by about an hour.
In response to that blunder, London 2012 spokesman Andy Mitchell said: "A genuine mistake was made for which we apologise."