London 2012: Two athletes miss Games after failed drugs tests
Last updated on .From the section Olympics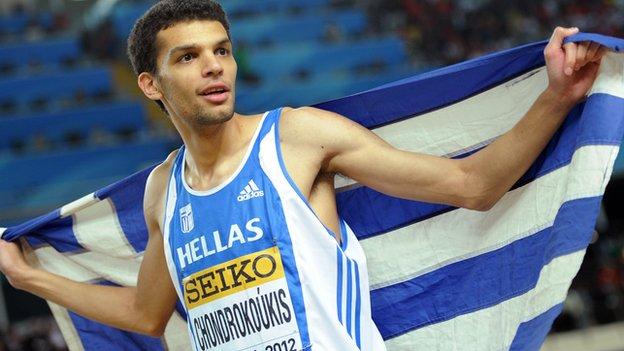 Greek high jumper Dimitrios Chondrokoukis has pulled out of London 2012 after testing positive for the banned substance stanozolol.
The 2012 world indoor champion was one of Greece's best hopes of a medal.
Chondrokoukis, 24, jumped a personal best of 2.33 metres when he took gold in Istanbul in March, beating Britain's Robbie Grabarz, who finished sixth.
Hungarian discus thrower Zoltan Kovago will also miss the Games after being handed a two-year doping ban.
Stanozolol is the same substance taken by Canadian sprinter Ben Johnson in 1988.
Chondrokoukis will seek a retest according to his father and coach, Kyriakos Chondrokoukis, who said in a statement: "I will fight - we will fight - to respond and see exactly what happened.
"Not only for us as a family, but for the sports fans who have embraced Dimitrios with so much love."
Greece have now lost two athletes from their original squad after triple jumper Voula Papachristou, 23, was expelled by her own nation's Olympic committee for writing a racist remark on Twitter.
Kovago, 33, won silver at the 2004 Athens Olympics and was also considered a medal contender at this summer's Games.
The Hungarian Olympic Committee said in a statement on Thursday that the Court of Arbitration for Sport had upheld an appeal filed by athletics' governing body, the International Association of Athletics Federations.
They said Kovago refused to provide a sample to doping officials last year. The IAAF filed an appeal after Hungarian doping officials had initially cleared Kovago.
His silver medal in Athens came after another Hungarian discus thrower, Robert Fazekas, was disqualified for a doping offence after initially winning gold. Kovago originally finished third but was upgraded to the silver medal position.
It was announced on Tuesday that Moroccan 1500m runner Mariem Alaoui Selsouli will miss the Games after failing a drugs test.