Michael Phelps and Ryan Lochte set for swimming showdown
By Nick Hope and Frank Keogh
BBC Sport at the Olympic Park
Last updated on .From the section Olympics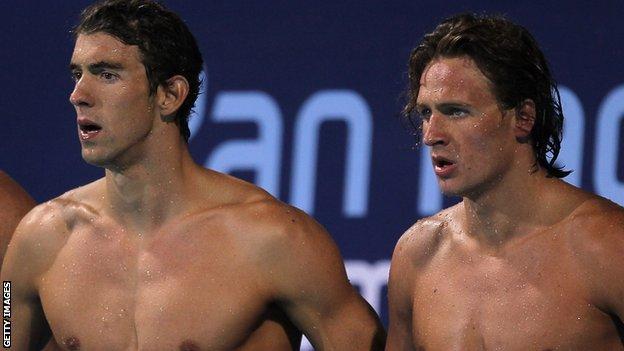 The duel in the pool between American swimming rivals Michael Phelps and Ryan Lochte is expected to be one of the highlights of the London Olympics.
In a numerical battle of Olympic medals there is no contest - Lochte has three golds to the 14 of Phelps.
But victories for Lochte at last year's World Championships and the US Olympic trials suggest swimming's great champion faces a stern test in his last competition before retirement.
At those trials in June, Lochte won the 400m individual medley with Phelps exacting revenge in the 200m event and the pair will face each other over the same distances, starting on Saturday, in London.
BBC Sport assesses the mood as they prepare for the big showdown.
Michael Phelps
"This is the closure and it's really about how many toppings I want on my sundae - I want to enjoy it.
"Ryan's doing lots of strength training, pushing tyres etc. I have two people who work with me. They put on paper what I do and we have done boxing, weight lifts and they keep it fresh and exciting and new so that we stay interested. Everyone needs something different. For Ryan it's a tyre, or lifting chains, but I don't see myself doing that.
"I have found that recovery is more important now than it was then [at previous Olympics]. My body is older. Training and everything was perfect leading up to Beijing in 2008. It will be harder for me to recover than before, but the trials gave me an idea of what I'll be up against.
"There will be lots of ice tubs and sleeping and saving emotional energy - it's a very full week and I have to stay on top of it no matter how tired I get.
"Some like to express their feelings in words, or actions, I like to do it through swimming. I have got to where I am through hard work and I'm very happy with my career and what I have done with it and we'll see what happens over the last week of it."
Ryan Lochte
"I'm not going just to swim to beat Michael - he's just one person - there are a bunch of others from around the world and I just have to race and have fun.
"If at the end of the race he is right there with me he is right there with me, but I can't focus on one person.
"I am friends with everyone, I don't have any enemies so I can't say he [Phelps] is. He's my competitor and a great rivalry has built out of our past meets, but we're also great friends and win or lose after the race we'll still be great friends and I hope it stays that way.
"You do have to conserve your energy, but at the same time you have to have fun. I've been doing pretty well balancing the pool and outside stuff.
"Back home people are talking about me and Michael but it's just talk and we'll see what happens."
Steve Parry, 2004 Olympic bronze medallist
"My best performance against Phelps was beating him in the Olympic semi-final in 2004, but then he kicked my butt in the final.
"I was the fastest qualifier for the 200m butterfly. He raised his game again when it mattered. I watched him touch the wall a second ahead of me.
"He's an unbelievable swimmer. If you look at him, it's like the guy was born to swim. He almost looks out of place on dry land.
"I can see Lochte winning the 400m individual medley but Phelps winning the 200 and getting four or five gold medals altogether from his seven events, which would take him to 19 altogether.
"There's some important markers that Phelps is going after. He has done the double in four events at the 2004 and 2008 Olympics: the 100m butterfly, the 200m butterfly, 200m individual medley and 400m individual medley.
"No man in history has managed to do the treble, winning the same event at three consecutive Olympics.
"The fact he has got a shot at that shows the magnitude of his dominance. If he can do it in multiple events, we just need to give him the crown and call him the king."
Karen Pickering, former world champion
"What I really love about them is they are so different. Phelps is so casual, low profile, you wouldn't notice if you walked past him in the street.
"He transforms himself in the water, whereas Lochte is the real showman. He's bling - he's got glasses and T-shirts made up for supporters and he loves the spotlight.
"On butterfly, one thing Michael Phelps notoriously does well is spotting the finish. When you take a stroke over the top of the water, someone like him finishes exactly on a full extension.
"Phelps spots the wall absolutely to perfection. It's very tough, especially in a 200m butterfly when you are tired.
"I think Lochte is going to win the 200m medley, but Phelps is going to get quite a few golds. He has more relay opportunities.
"Lochte could be the star - I think he will be the name at the end of the Games, for whatever reason."